Video counters ex-gay junk science
Daniel Gonzales of Ex-Gay Watch has put an excellent video up, The Spitzer Study of Ex-Gay Therapy: Methodological Flaws and Political Abuse. From the synopsis:
A study of gay conversion therapy released by Dr. Robert Spitzer in 2001 sent shockwaves through the American media despite serious … all » methodological concerns. This video examines those concerns and goes on to examine how the study has been abused by anti-gay political organizations such as James Dobson's Focus on the Family to promote anti-gay public policy.
The reason that Dan is releasing the video is that the ex-gay Exodus road show Love Won Out is coming to Phoenix is next weekend and the Spitzer study, with its junk science, will be cited once again. The video provide a resource to counter to the misinformation being served up by Exodus.
In the video, he also discusses the head of Exodus, Alan Chambers, "a paid, professional ex-gay" who claims, depending on which publication you pull up, that "thousands" or "hundreds or thousands" of former homosexuals have successfully prayed away the gay. Exodus leans of the faux science in Spitzer's study.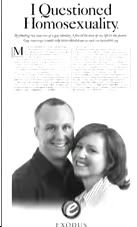 Dan also includes quotes from Wayne Besen, who questioned Spitzer's methods.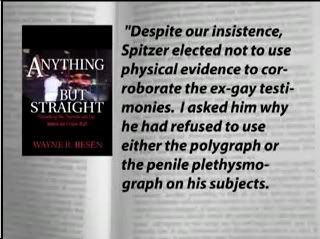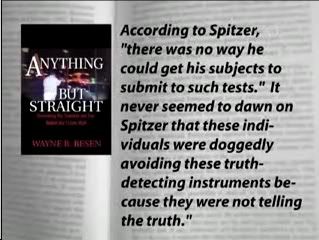 The Phoenix Love Won Out conference will be held Feb. 10 at Bethany Bible Church. A counter protest, called Love One In will feature pastors and lay people with pickets, a prayer vigil and a post-conference gathering so gays can tell their stories about being out.
Take a look at the ex-gays-for-pay who will be speaking at the Daddy D event.
Among seven key speakers will be "once gay" Mike Healey, conference host and former board chairman of Exodus International, which proclaims "freedom from homosexuality is possible through Jesus Christ." Another speaker will be Melissa Fryrear, former lesbian and now Focus on the Family's director of gender issues. But other speakers, Schneeberger said, include developmental experts with knowledge in psychology and social sciences, with a "causal point of view."

…three pastors who minister to gays, lesbians, bisexuals and transgender people said the conference could be damaging. "We see this really (as) a case of spiritual abuse," said the Rev. Steve Wayles, pastor of First Congregational Church of Phoenix. "It is our belief that people are born with a sexual orientation and that the whole idea of expecting people to change or working to change their orientation, on the basis of six Scriptures not being interpreted properly, is just not a healthy thing," he said.

"God created all people and said that they are good, so why change that if God (said) that it is good to begin with?" said the Rev. Nancy Elsenheimer, a pastor of Church of the Beatitudes in Phoenix, where a "telling their stories" gathering will be at 6:15 p.m. the day of the conference.