For a good cause… sponsor an Equality Rider
In March and April 2007, almost 60 LGBT and straight allied youth will board two buses and travel across the country visiting more than 40 religious colleges and universities which ban the enrollment of openly gay students.
This journey, inspired by the Freedom Rides of the Civil Rights Movements and using the relentless, non-violent, direct action (and, if necessary, civil disobedience) techniques and teachings of great human rights leaders like Martin Luther King, Jr. and Gandhi, is known as The Equality Ride.
I'm glad to report that one of your very own Blenders is going to be a Rider in this journey. I'll be on the Eastern Bus.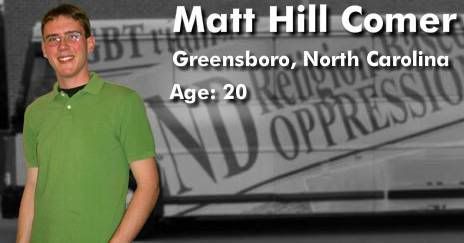 I hope, if you are able, that you will take the time to visit my "Rider page" and "sponsor" me on the Ride.
To give you more of an idea of what the Equality Ride is and what it means to me, I'm going to re-post a portion of a writing I made on my site after coming back from our first Ride training in Austin, TX, in the first week of January (p.s. – I'll be blogging on my site – InterstateQ.com – the entire time I'm on the Ride in March & April).
[The rest of the post is after the jump…]The Journey has just begun
Jan 9 2007
On Saturday morning, the Reverend Mel White, Soulforce founder and former "ghost-writer" for the Reverend Jerry Falwell and Pat Robertson, spoke to all 56 of the Equality Riders. After showing a brief multimedia presentation of the history of America's quest for equality and liberty (as well as the history of Soulforce), Mel did not hesitate for even one moment to tell us what I think is probably the most important lesson I learned from this training: Don't sweat the small stuff. It's all bullshit. All of it. Politics, history, group dynamics, ego's & "our futures." None of that matters when you consider the real faces and the real people, the suffering, the oppression & the lack of love & hope which emanate from lives full of being cast out and sidelined in the name of God.
Mel told us two stories I don't think I will ever be able to forget. He once received a letter from a young man – an artist. Included in the letter was this young man's story of growing up gay and in a place where he was constantly told that he could not be loved by God or by others unless he changed. Along with this, the young man told of his story of attempting to change himself – through ex-gay therapy – so that he might be loved and accepted by his Creator. Inside the envelope was a check, made out to Soulforce, for, well, a good sum of cash.
Although so full of great giving and compassion for a movement which could have changed the future of so many LGBT people, this young man's letter and check would be serve as this young man's "last words." The letter was a suicide note. Soon after sending it, the young man killed himself; for him, change was too late. For him, hope had already come and gone and it passed him over. For him, all of the love he could have felt and all of the work that we could have done to save him had all come too late. Words of "love the sinner, hate the sin" had taken its toll.
Mel's second story was of a pianist at a church where he once was involved. The pianist experienced a life and story similar to that of the young man. One day, at the church, the pianist walked into the sanctuary, holding a bloody towel between his legs. Because he could not change himself and get rid of his "sin," he had done the only thing he could think of. For the sake of "receiving God's love," the pianist had castrated himself.
Our movement comes to late to save so many people. Our movement and our communities have failed so many people in the past. WE MUST NOT FAIL ANYMORE. Everyday, our world loses 4 LGBT youth because they grew up being told that unless they changed they would never be accepted or loved by God.
A lot of people question the motives and the strategy of Soulforce and of the Equality Rides. The motives and strategy are pure and of the utmost importance: The source of all this suffering, oppression, lives lost and lives destroyed comes directly from the pulpit and directly from religion. In confronting religion-based oppression and cutting off the prejudices and the hate before it has the chance to infect the mind of a parent, teacher, divinity student (and future pastor), politician and others has the ability to save thousands – if not millions – of lives which would otherwise be lost.
There is no love in a "love" which claims that one must forsake true self and life. There is no love when one says, "love the sinner and hate the sin," for one cannot love God and hate their brother (I John 4:20); for one cannot deny the humanity, divinity and existence of another "fearfully and wonderfully made" (Psalm 139:14) in the "image & likeness of God" (Genesis 1:26-27); for one cannot uphold "the law" without love, for "the whole law is summed up in a single commandment, 'You shall love your neighbor as yourself.'" (Galatians 5:14 [Matthew 22:39, Mark 12:31]); for one cannot cast out, because in so doing one also casts out Christ (Matthew 25:40, Matthew 25:31-46).
Read the full posting at my site (I admit… it is quite a long posting, lol)