He wants YOU to join the Army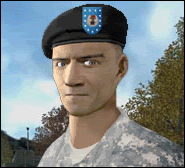 This is Sgt. Star ("Strong, Trained and Ready"), and he's the latest tool of the Army to get some warm bodies in the door. He's the virtual guide on the recruiting site, and he's apparently hit with those who stop by. (GCN):
"We've tested Sgt. Star for several months on GoArmy.com, and in comparison to the site without him, we've seen longer session times, excellent accuracy and increased questioning among users," said Gary Bishop, deputy for the Strategic Outreach Directorate in the Army Accessions Command.

The metrics bear out Bishop's assessment of Sgt. Star's contribution. Since he debuted in August, users' sessions have lengthened from an average of four minutes to 16 minutes. And since the virtual guide was activated, he's fielded more than 500,000 questions, with a 92 percent
I wonder what kind of questions he answers. The program, created by Next IT Corporation, out of Spokane, Washington, uses natural language conversation and asks follow up questions to help the curious out.
Do you think Sgt. Star will answer questions about DADT or whether there are gay servicemembers in the military (ha!)? The site asks you to phrase your questions carefully.
* SGT STAR works the best when he knows exactly what you want.
* SGT STAR is in training. If he doesn't get your question right at first, try rewording it.
Maybe someone would like to go try him out for a spell.