Co-pastor of 'Quicksand Jesus' church sued for bogus 'faith healing'
Darlene Bishop, co-pastor of Solid Rock Church, a 4,000-member congregation in Monroe, Ohio, is in a lot of hot water. She wrote about the purported cure of her own breast cancer as well as her brother's throat cancer in the evangelist's book, "Your Life Follows Your Words." There's one problem with the story.
Her brother, Darrell Perry, well-known and successful country music songwriter who penned hits for Toby Keith and Tim McGraw, actually died from the cancer a year and a half ago. (NYT):
In a sworn deposition responding to two lawsuits filed by Mr. Perry's four children, Ms. Bishop stated that no doctor ever diagnosed the breast cancer she referred to prominently in her book. Instead, Ms. Bishop testified, she thought that she had cancer in 1986 and that it was cured.

"She's lying to people and exploiting my father for her own financial gain," Mr. Perry's eldest son, Bryan Perry, 36, said in an interview.

One lawsuit accuses Ms. Bishop of wrongful death because, it says, she convinced Mr. Perry to pray rather than to seek medical care. The other accuses her of mismanaging and misusing his estate, which the Perry children say could be worth millions. The estate case is to be argued in Butler County Probate Court on Friday.

…In her deposition, Ms. Bishop said Mr. Perry had decided on his own to disregard doctors' advice that he immediately begin chemotherapy and radiation treatments. But Mr. Perry's children contend that their aunt persuaded him to forgo medical treatment and rely on a process of faith healing that, Ms. Bishop wrote in her book, God had explained to her in a revelation.

…"He was laying in bed dying, and she had him convinced that he was healed," said Mr. Perry's son Justin Jones, 28, who lived in Ms. Bishop's house for a year caring for his father.
Jesus. This is sick.
See the Quicksand Jesus after the flip…

The Solid Rock Church.
As bad as that is, this monstrosity is probably topped in bad taste by the Statue of Liberation Through Christ erected in front of the 12,000-member World Overcomers Outreach Ministries Church at Winchester and Kirby Parkway in Memphis.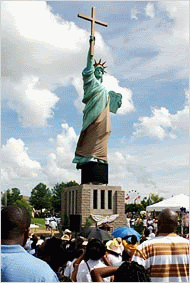 She holds the Ten Commandments and "Jehovah" is inscribed on the crown. The church pastor, Alton Williams, was quoted as saying, "People don't talk about Christ anymore and our morals are gone…People cannot drive by our statue without thinking about their relationship with God."
Hat tip, Ms. Julien.