And I thought Prada Papa Ratzi was off the market
Jesus' General has been examining the phenomenon called Hannidate for some time now. It's Sean Hannity's online dating matchmaking service — "the place where people of like conservative minds can come together to meet."
He's featured Hannity-approved lonely patriots like Shieldvulf, who doesn't want to knock boots with any brown people.
While you have visions of Cheetos-stained Freeper fingers signing up to fornicate with one another on the Faux News bleater's online dating game, it appears that the good General has an inside line on one of the latest ads going up, which seems to feature a request for some man-on-man action.
I don't know…what do you think?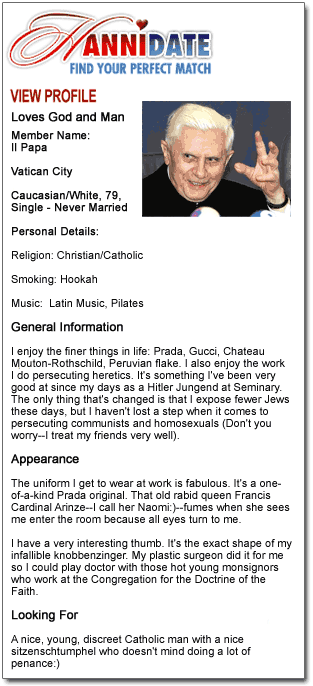 Head over to Jesus' General for hilarious previous Hannicatches.
***
In spirited fashion last week, the Panzer Pope spewed his latest homophobic bile about gay folks, saying homosexuals basically end up destroying themselves, therefore he and the Church have a duty to step in and speak out on moral issues. (WND):
"In seeking to emancipate himself from his body (from the 'biological sphere'), [man] ends up by destroying himself," the pope told cardinals, archbishops, bishops and members of the Roman Curia last week in a traditional meeting overlooked by most of the world's press. "Against those who say that 'the Church should not involve herself in these matters,' we can only respond: does man not concern us too? The church and believers must raise their voices to defend man, the creature who, in the inseparable unity of body and spirit, is the image of God."

…"At this point, I cannot fail to mention my concern over 'de facto' couples," he said. "When new legislation is created that relativizes marriage, the rejection of the definitive bond gains, so to speak, juridical endorsement. Relativizing the difference between the sexes … tacitly confirms those bleak theories which seek to remove all relevance from a human being's masculinity or femininity, as if this were a purely biological matter."