A look at the 2008 derby so far

Actual Freeper Quotes?
* Ohio Rep. Dennis J. Kucinich
— Marriage: on the record for full marriage equality
— DOMA: it's assumed Kucinich would want DOMA amended/repealed if CUs are on the table.
* Illinois Sen. Barack Obama
— Marriage: No. Civil unions, yes.
— DOMA: when he was running for the Senate in 2004 – "I will vote for its repeal on the Senate floor." No word on any change so far on the position.
* New Mexico Gov. Bill Richardson
— Marriage: Nope. "on the issue of gay marriage, I'm just not there. I want to be honest."
— DOMA: He voted for it in 1996, and stated in Feb 2007 that he still stands by that vote now.
And just for fun…
* Former New York Mayor Rudy Giuliani
— Marriage: Nope. Depending on the direction of the wind, he's for or against civil unions/domestic partnerships. In May 2007, he flip-flopped once again, in a speech at Houston Baptist University that he is proud of submitting, a bill in NY creating domestic partnerships for gay and lesbian couples.
— DOMA: No stated opinion.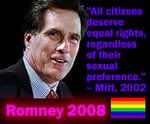 * Former Massachusetts Governor Mitt Romney
— Marriage: Nope. For your amusement, click on the above graphic for Bay Windows' reporting on Multiple Choice Mitt's history, The Romney Files.
— DOMA: Of course he doesn't want it repealed.
Don't even bother with the rest of the GOP clown car…
* Kansas Sen. Sam Brownback
* Attorney John H. Cox of Illinois: "speaks of his lesbian sister when he discusses his opposition to gay marriage."
* Former Virginia Gov. James S. Gilmore III
* Former Arkansas Gov. Mike Huckabee
* California Rep. Duncan Hunter
* Arizona Sen. John McCain
* Texas Rep. Ron Paul
* Colorado Rep. Tom Tancredo
* Former Wisconsin Gov. Tommy G. Thompson