Open thread: Darth on the stand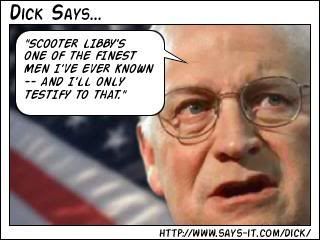 Like Darth's going to tell the truth. And if anyone doesn't like what he has to say — watch out, VP Defibrillator has a gun.
According to this article, Cheney would be the first sitting VP to testify in a criminal case. (AP):
"We're calling the vice president," attorney Ted Wells said in court. Wells represents defendant I. Lewis "Scooter" Libby, who is charged with perjury and obstruction.

…Libby is accused of lying to investigators about what he told reporters regarding former CIA operative Valerie Plame. Plame's identity was leaked to reporters around the time that her husband, former ambassador Joseph Wilson, publicly criticized the Bush administration's prewar intelligence on Iraq.

…Libby has been extremely loyal to Cheney and, in return, had the vice president's unwavering trust. By 2000, Libby was working as a top adviser to Cheney in the presidential campaign and then followed him to the White House. In the White House, he was known as "Cheney's Cheney" for being as trusted a problem solver for the vice president as Cheney was for Bush.
Use this post as the evening open thread…