Open thread — it's all in the name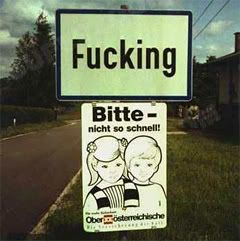 This is a sign in an Austrian town. As you might imagine, there's a bit of a problem with tourists stealing the signs. This particular one, with the little children on it, supposedly translates as "Please – not so fast!" in German.
More here.
Do we have any unfortunately-named towns in the U.S. that reach this level of hilarity?
***
From the weekend front page, if you didn't catch them…
* Pam: sHillary hires 'faith guru' to woo the religious vote
* Pam: Leonard Pitts on why gay rights matter
* Pam: Q of the day – bad tippers
* Pam: Time's 'Person of the Year' is You
* Pam: Canadian fundie can't face the reality of marriage equality
* Pam: Crazy NJ clergyman rants over passage of civil union bill
* Matt Hill Comer (diary): NC-based gender advocacy group to be represented on Fox News Channel tonight
* Autumn Sandeen (diary): Transwoman + Police = Scary
* Russ: My Slave-Owning Ancestors
* Russ: Q of the Night: How does your partner bug you?
* Pam: Daddy D's right hand man: 'hundreds of pastors' in the same boat as Haggard