Minnesota lawmaker charged with abusing spouse: GOP scandals had no impact on elections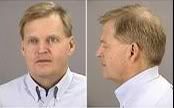 Denial is a powerful thing, isn't it? Republican Minnesota state representative Mark Olsen, who was recently seen crying before news cameras as he faced two counts of domestic assault for shoving his wife to the ground several times, doesn't believe his actions (or Mark Foley's for that matter) had any impact on GOP outcomes during the election.
Read in disbelief after the jump.
I guess he has to try to convince himself of this since he may face expulsion from the MN House if found guilty of abusing his wife. Lloydletta and Dump Mark Olsen picked up on this news from T.W. Budig at ECM:
Whether Rep. Mark Olson, R-Big Lake, could face expulsion from the House if found guilty of misdemeanor domestic abuse charges against him seems a possibility.

On Thursday (Dec. 7) the House Republican caucus suspended Olson from the caucus.

According to House Minority Leader Marty Seifert, R-Marshall, to vote to suspend Olson was unanimous. It means Olson cannot use House Republican resources, nor vote with the caucus.

Olson doesn't believe his problem reflects on the Republican House caucus.

People make distinctions between individuals and parties — lumping them together is something the media does, Olson recently argued. "It's not their (the House caucus') mistake," Olson said.

Indeed, Olson dismisses the idea that Republican Congressman Mark Foley — a focus in the recent U.S House page scandal — negatively impacted Minnesota Republican candidates last election. "That's the most ridiculous thing I've ever heard," he said of the scandal's influence.
Well, I guess he's right on one count, since that Minnesota horror Michele Bachmann managed to win a ticket to Congress…
From election night, unhinged homo-hater Minnesota Rep.-elect Michele Bachmann, strikes a pose for a victory photo (courtesy of Dump Michele Bachmann).
Here's Michele in a more pious mode:
"He created the male and female and he brought them together and that's what marriage will be…In the midst of that calling to me, God then called me to run for congress…In the midst of him making this calling sure, what's occured in this particular race is that this congresssional seat – one of 435 in the country – has become one of the top 5 races in the country and in the last week has become one of the top three races in the country and you may have seen now God has in his own will and in his own plan has focused like a laser beam after this scandal that came up about a week or so ago he has focused like a laser beam with his reasoning on this race.
Hear the audio of Olsen begging for forgiveness in front of the reporters after being slapped with the abuse charges. Also, don't forget to check out my earlier post on Olsen's other rap — that he abused staff at the office as well.