Foley investigation: 91 pages and no one takes responsibility

Foley is asking for the size of the page's penis.
I hope parents of teenagers across America take a look at this report on the handling of Mark Foley and his "improper conduct" toward current and former House pages before they send their kids to participate in the page program.
They will see that in the document's 91 pages, no one will be disciplined for this. How about those family values on the Hill?
Here are the highlights:
• House ethics committee rules leaders were negligent in protecting pages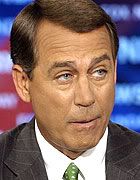 • No one will be reprimanded because no rules were broken
• The panel confirms Foley sent "salacious" correspondences to former pages (how about "You could always stay at my place. I'm always here, I'm always lonely, and I'm always up for oral sex.")
• Many aware of allegations and remained "willfully ignorant" to consequences of the predator on the loose.
This is the best they can offer, the self-proclaimed party of morality and virtue? These folks should be ashamed of themselves.
Mark Foley interrupted a floor vote to have cybersex with page, and patted male page's behind on House floor for god's sake.
In the report (on p. 76) the committee makes the claim that no pages were ever warned about Foley, saying that its "not supported by the record," and that "none of the staff associated with the page program or former pages who were interviewed recall any such warning being given."
So is the committee calling former page Matthew Loraditch, a liar?
Matthew Loraditch, a page in the 2001-2002 class, told ABC News he and other pages were warned about Foley by a supervisor in the House Clerk's office. Loraditch, the president of the Page Alumni Association, said the pages were told "don't get too wrapped up in him being too nice to you and all that kind of stuff."
This is definitely a coverup — and the cover up also includes gay Arizona Rep. Jim Kolbe. Kolbe told a former page who asked him about how to handle IM cruising by Foley(from the report):
"it is best that you don't even bring this up with anybody…[T]here is no good that can come from it if you actually talk about this. The man has resigned anyway."
Both sides of the aisle are scrambling to let this die as quietly as possible. Citizens for Responsibility and Ethics in Washington (CREW) says House Ethics rules were broken.
Perhaps the committee members can refresh their memories of what else happened just a few months ago. I have plenty of links to help them out, after the flip.A blast from the past. Enjoy…
* Former staffer to testify drunken Foley cruised page dorm
* Try again, Cliff Kincaid (a gay cabal infiltrated the GOP to advance the Homo Agenda)
* Evidence of FBI coverup on Foleygate
* Mike Rogers on O'Reilly and two more anti-gay closets kicked open
* Reynolds drops out of fundraiser for mistress-choker
* TVC's Lou Sheldon's spittles over Foley
* Lawrence O'Donnell on closeted gay Republicans
* Page self-identifies, to speak with feds
* Kolbe saw Foley messages in 2000
* Daddy Dobson lies, blames teen pages and liberals for Foley debacle
* Foley's power trip
* O'Donnell: what's up with Hastert's roomie/chief of staff?
* On the hit list of the fundies, the gay GOP continues to protect its closet
* Trouble in GOP House seats
* Mike discusses outing gay hypocrites on Tucker Carlson's show
* Time for the GOP hole card to turn up
* You knew it wouldn't take long for this to show up
* Watch Pat Buchanan play the NAMBLA card; UCC takes on Perkins
* Three more pages speak to ABC about Foley's 'approaches'
* Insane defenses
* Caption this – Tom Reynolds and Laura Bush
* Thursday AM Foley roundup
* Hastert: I'll resign if it will help the GOP
* Gingrich: Dems' sex scandals are worse / Drunk Foley showed up at page dorm
* The List
* Kirk Fordham's the first to go
* dKos Cheers & Jeers on Foleygate
* Qs of the day – who's going down/career advice for Foley
* Glenn's on Foley fire…
* Wednesday AM Foley update
* How low can you go — Tom Reynolds hides behind children
* Foley's attorney: he was molested by a priest as a child
* OK, enough. Hastert has to go NOW.
* Dear Leader speaks…
* Foley interrupted floor vote to have cybersex with page
* Page threatened, Foley still using AOL screen name
* Eating their own – Boehner drop kicks Hastert
* Tuesday AM Foley roundup
* More GOP family values: Foley aide tried to cut a deal with ABC's Ross
* More info on Foley's well-known predator rep among pages
* They knew about Foley in 2001
* There should not be silence
* GOP leadership: spinning for the election home stretch, but nowhere to run on Foley
* More Foleygate
* Foley blasted 'vile' Clinton in 1998 for his 'sad sexual addiction'
* Resolution for ethics probe over Foley passes 410-0
* Denny Hastert must resign for doing nothing about Foley
* Foley drops out of re-election campaign
* What the heck was Mark Foley thinking?