Too good to be true WND poll
Ah, the WND folks are speculating about abandoning ship in 2008, tee hee…
Whom should the Constitution Party nominate for president?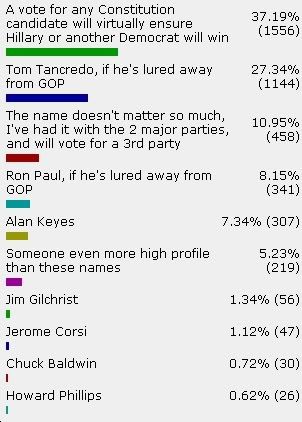 Look at the unhinged accompanying article.
This weekend at a national committee meeting in Manchester, N.H., Howard Phillips and the Constitution Party he founded set in motion the plans to launch its own third party candidate for president.

"The time has never been better for a third party dark horse candidate to grab the White House," Phillips told WND.

…Last night, speakers included [Chuck] Baldwin, a prominent pastor who hosts a weekly radio show from his congregation in Pensacola, Fla.

Baldwin told the group the "radical left" has an agenda to remove God from the United States of America.

"When both the Democratic and Republican parties join together agreeing that we should put 'In God We Trust' on the edge of our coins where nobody can read it," Baldwin told WND, "then most Americans are ready for change."

Baldwin told the conference "the 2006 mid-term elections sent a message that George W. Bush and Karl Rove have yet to hear, namely that if the Republican Party thinks they will succeed by abandoning conservative principles, then the great mass of red state America is ready to abandon the Republican Party."
Calgon, take me away from this wingnuttery…we just need a nice slice of these folks to go third party to decimate the GOP.
Just a reminder, here are the seven principles of the Constitution Party…
1. Life: For all human beings, from conception to natural death;
2. Liberty: Freedom of conscience and actions for the self-governed individual;
3. Family: One husband and one wife with their children as divinely instituted;
4. Property: Each individual's right to own and steward personal property without government burden;
5. Constitution: and Bill of Rights interpreted according to the actual intent of the Founding Fathers;
6. States' Rights: Everything not specifically delegated by the Constitution to the federal government is reserved for the state and local jurisdictions;
7. American Sovereignty: American government committed to the protection of the borders, trade, and common defense of Americans, and not entangled in foreign alliances.