Please make a Foley ornament
Melody Joy Kramer of NPR dropped me a line to encourage Blenders out there to get festive and create some policitally savvy holiday ornaments for its first-ever Holiday Craft Contest.
Creative types, NPR is looking for ornaments or menorahs that play off this year's events in news, entertainment, science and sports — you photograph your work of art, and then post the photo on Flickr for judging. It's a contest, so here's the fine print on how to enter. The deadline is December 11, with the winner announced on the air on December 15.
Please, someone has to create an appropriate Foley or Haggard ornament! I'm not the "crafty" type, lol. Here's a great one featured on the NPR site…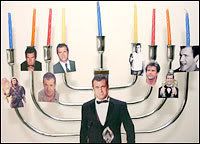 Avie Schneider, NPR
Mel Gibson Mel-norah. This menorah works on two levels: It symbolizes a willingness to accept Gibson's apology for his anti-Semitic rant but also, for skeptics, offers the chance to watch hot wax drip down his punim (the Yiddish word for face).