Homo-obsessed military 'watchdog' Elaine Donnelly pants over Barney Frank
Now that the Dems are going to be in charge on the Hill and hearings are going to be held on DADT, the hellion of homo-hating, Elaine Donnelly, president of the Center for Military Readiness , can't stop thinking about what might happen, so she's hoping squishy Dems won't address the injustice.
A Michigan-based military watchdog says she's not surprised that openly homosexual Congressman Barney Frank intends to once again try to push through legislation aimed at repealing the ban on homosexual men and women serving in the military. But she also doesn't think the new liberal-led Congress will go along with it.

…The self-identified homosexual, she says, offered up comments about legislation to repeal the law that was passed in 1993 barring homosexuals from military service.

…Donnelly is convinced the Democrats realize there would be considerable political consequence if the ban were lifted during their watch. "I don't think that this Congress, as shifted to the left as it is now, would attempt to do that," she states. "If they did, the American public would be appalled …."

Other avenues, however, might be considered, she says. "That's why you have a group of people here, trying again to go into the federal courts to get the courts to do what they could not do legislatively," says Donnelly. "And that is, to impose the homosexual agenda on the armed forces of the United States."
She's unhinged over Cook v. Rumsfeld, the legal case recently thrown out by a federal judge (it has been appealed) challenging the constitutionality of DADT. The fact that 14 retired military leaders have filed briefs on the plaintiffs' behalf is nothing more than a moonbat smokescreen.
"These are people from the liberal left," she explains. "The fact that some of them have military background really is of no consequence because the court rightly ruled that Congress certainly had the right and that it is constitutional to have policies that exclude homosexuals from the military."
Other bits of wisdom from Donnelly:
* Canada has a pansy military
* On the Soulforce Right to Serve movement: "They are promoting an agenda to normalize homosexuality in America using the military as a battering ram to promote that broader agenda."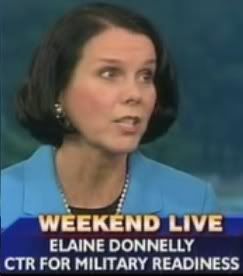 * On why it's ok for the military to discriminate: "The military is not like any other employer, troops often live in close quarters with little privacy, creating "forced intimacy…This is not a question of bigotry, it's about "respect for personal modesty."
Watch SLDN's Sharon Alexander debate retro-chick Elaine Donnelly.***
Who is Mike Gravel? He supports the repeal of DADT
He's running for the 2008 Dem presidential nom (gee, I thought Tom Vilsack was the only declared Dem — who knew?).
Gravel's a former senator from Alaska and probably has about zero name recognition, but he recently visited the Servicemembers Legal Defense Network offices to let them know that he supports the effort to repeal Don't Ask, Don't Tell. (The Frontlines):
A U.S. Army veteran himself, Senator Gravel sought to meet with SLDN to lend his support to our work on repealing "Don't Ask, Don't Tell." He said he believes "Don't Ask, Don't Tell" is a bad law, and as President he would lead efforts to change it. He promised his support in whatever way we can use it, and we thanked him for coming to meet with us.

Straight talk isn't something DC politicians are known for. But Mike Gravel is a straight shooter and a straight talker, and that's a breath of fresh air in this town.
Gravel is for the complete withdrawal of troops from Iraq and universal health care, btw.
***
While I'm on SLDN, the Frontlines blog is running a Top 10 'Don't Ask, Don't Tell' Stories of 2006. Check out #10.