Salon: the gay agenda is about winning elections
To continue ruminating on the "homosexualist" political power that has poor Porno Peter LaBarbera bellyaching, Salon has a piece up that outlines the contribution and influence of gay millionaires on the 2006 election results.
An unprecedented amount of queer cash flowed into the coffers of candidates whose opponents were anti-gay, and into advocacy campaigns to defeat anti-gay legislation.
Reporter Kelly Eleveld points out that even in a state like Colorado, where Marilyn Musgrave was re-elected, a marriage amendment passed, and a domestic partnership measure (Referendum I) failed, the wealth of gay entrepreneur Tim Gill and his 527, Colorado Families First, forced the GOP to dump tons of money into a state that should have been a safe bet, leaving other races around the country without enough resources to win — and Musgrave barely held on — with 51% of the vote.
The loss on Referendum I was a heartbreaker for Gill and his organization. "We came extremely close," said Patrick Guerriero, executive director of the Gill Action Fund, Gill's political action committee. Guerriero — who used to be President of the Log Cabin Republicans, an advocacy group for openly gay Republicans — added that it was both "a sign of amazing progress and also a sign that there's more work to be done."
The silver lining for LGBT citizens in Colorado and around the country is that not only were more openly gay politicians were elected in 2006, but many of the homophobes running for seats in state legislatures were defeated — and there is a sense that this "cleaning house" at the local level is where the political gains are going to be made. This is a strategy that the GOP and fundies have been playing for a long time now, and we're having to play catch-up.
In the state Legislature, however, Democrats cruised. They added four seats in the House and four in the Senate and elected a Democratic governor to replace outgoing Republican Bill Owens. And it is state legislatures, said Kenneth Sherrill, an openly gay professor and director of Hunter College's Center for Sexuality and Public Policy, that are particularly critical in the struggle for gay rights.

First, explained Sherrill, state legislatures are farm teams for the big leagues. "Progressives have been so focused on national politics," said Sherrill, "that we've lost track of the pipeline. I've heard Tim Gill say, 'If we'd had the wisdom to head Musgrave off in the state Legislature, then we would not be in the position of having to deal with her in Congress.'"

Second, and more important, state legislatures are where most of the battles for lesbian, gay, bisexual and transgender rights are being won and lost. The federal government has largely left the states alone to decide whether gay people can visit their partners in the hospital or have the power to make emergency medical decisions; whether partners can join benefit plans, get health insurance, or receive their partner's pension after they pass away; and whether same-sex couples should be able to adopt children, foster children, or get married.

…But because of Gill et al., in Colorado the state Legislature probably won't be floating any more anti-gay legislation in the near future. The pro-gay Referendum I, for instance, was approved to appear on the November ballot by Colorado's now-Democratic and gay-friendly Legislature. The anti-gay marriage amendment, by comparison, reached the ballot via a signature drive funded by conservative groups like James Dobson's Colorado Springs-based Focus on the Family.
The bottom line is that with 45 states that have taken legislative action to prohibit marriage equality (with 26 states passing amendments to their constitutions), and neither political party willing to take a stand against letting voters decide the civil rights of LGBT citizens, we have to stop the passage of such measures in the state legislatures in the first place. North Carolina has done this three years in a row — and Dems gained even more seats in our Gen Assembly in November — so any wingnut bill on marriage will die in committee again.
The best way to move forward is to not only lobby against anti-gay legislation, but to defeat the anti-gay legislators and yes, Porno Pete, elect more openly gay legislators.
***
And on a hilarious side note, my senator, the useless Empty Wig Elizabeth Dole, who is also the hapless chairwoman of the National Republican Senatorial Committee, is begging for cash to retire campaign debt. This landed in my inbox yesterday: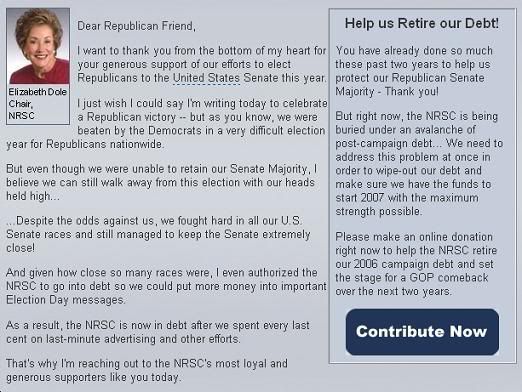 At the end of the letter, it becomes a Sugar Lips tearjerker…
Remember, the sooner we can pay off the debt from the last election and begin to focus on the next campaign, the greater our chances are of regaining the majority in the next election.

…As my term as NRSC Chair comes to an end, I look back and cherish the great friendships I have made with loyal Republicans all across this country. I am truly thankful to have friends like you who are committed to our cause, our ideals and principles.