Fundies chew out Rick Warren over Obama church appearance
Boy the bible-beaters are really eating their own on this one.
Pastor Rick Warren of the mega-sized Saddleback Church is taking a lot of lumps from other evangelicals for inviting rock-star Illinois Senator Barack Obama to speak because of the elected official's pro-choice stance.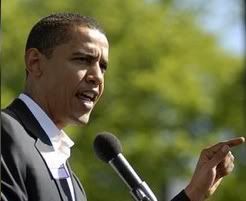 Obama is scheduled to appear at the church on December 1 at a seminar on addressing the worldwide AIDS crisis, but the bleating by fundies calling for Warren to rescind the invitation is deafening.
"You cannot fight one evil while justifying another," a joint statement from dozens of leaders of Christian groups said in condemning Obama's support for abortion and Warren's support for Obama.

"The evangelical church can provide no genuine help for those who suffer from AIDS if those involved do not first have their ethic of life firmly rooted in the Word of God," the group said. "Accordingly, we call on Pastor Rick Warren to rescind his invitation to Sen. Obama immediately.

…As those who have worked to defend preborn children from the horrors of abortion in America and who have stood uncompromisingly against the legalized slaughter of an estimated 50 million Americans in the womb since 1973, we join with one voice in expressing our indignation and opposition to Rick Warren's welcoming of Sen. Barack Obama to his church."

…The name of the seminar at which Senator Obama will be appearing is entitled, 'We Must Work Together.' No, Mr. Warren, Mr. Obama, we will never work with those can support the murder of babies in the womb.
Obama will not be addressing the Saddleback flock, mind you, but a conference of leaders focusing on the HIV/AIDS crisis.
Who are the crazies going after the Purpose-Driven Life author? Look at the list of the usual suspects…
Phyllis Schlafly of Eagle Forum, Judy Brown of American Life League, Tim Wildmon of American Family Association, Joe Scheidler of Pro-Life Action League, Cheryl Sullenger of Operation Rescue, Peter LaBarbera of Americans for Truth, Ken Silva of Apprising Ministries, Chris Rosebrough of Capo Valley Church in San Juan Capistrano, Calif., Kevin McCullough of WMCA Radio, Ingrid Schlueter of Crosstalk Radio, Vic Eliason of VCY American Radio Network and Cal Zastrow of Christian Action for the Preborn and others.
Also losing his cookies is Rev. Rob Schenck, head of the National Clergy Council.

"If pastor Warren cannot find the courage to rescind his invitation to Sen. Obama, he must at least make clear through a public statement that the senator's support of abortion stands in contradiction to what the Bible teaches and what the Christian church has historically taught on the sanctity of life."
BTW, Republican Senator Sam Brownback of Kansas is also slated to appear. The above folks have no problem with Sam, since he wants to free all fetuses because they are sacred.

Killer 'fro: unretouched scan of Sam's Kansas State University 1977 yearbook.