TG storyline to be featured on All My Children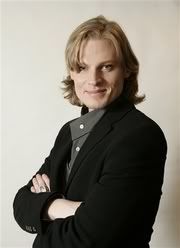 Caption: Jeffrey Carlson portrays a transgender character who is a rock singer, on ABC's soap opera "All My Children." He plays Zarf, who kisses the lesbian character Bianca. (AP Photo/ABC,Lou Rocco)
Pine Valley will never be the same. The soap has consulted with GLAAD and transgender folks on how to handle the subject matter. The character debuts this Thursday (Nov. 30) on All My Children. (AP):
"All My Children" was looking for something new, and knows its audience is always interested in anything to do with sexuality, said Julie Hanan Carruthers, the show's executive producer. "After 36 years, you start rehashing," she said. "It's inevitable. We didn't want to fall back on the baby-switch story again."

The show wasn't interested in doing something just to be sensational, she said. GLAAD and some transgenders were brought in as consultants in shaping the character, teaching the producers when it is appropriate to call a character "she" even before surgery, she said.

…Actor Jeffrey Carlson portrays Zarf, an American who nonetheless speaks in an exaggerated British accent. He was on the show for one day last summer and was surprised to get a call pitching him the new story.

Carlson said it can be intimidating feeling that he is representing the entire transgender community. "I worry about missing something, but I guess that would be the same with any character," he said. "I want the `All My Children' audience to go along. It's not for shock value. It's just another person who's story is being told in Pine Valley."
I'm curious about what soap fan reaction will be. Kate receives Soap Opera Digest, and there were some conservative readers that came unglued recently when a character on GH had an abortion.