Ashcroft's boobie-free portrait unveiled at Justice Department
This is what it looks like: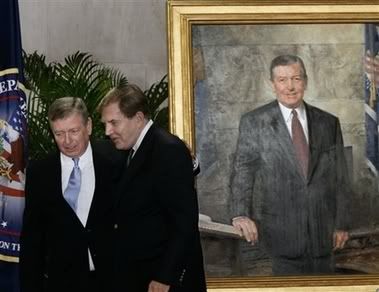 Caption: Former Attorney General John Ashcroft, left, talks with artist John Howard Sanden, right, after the unveiling ceremony of Ashcroft's official portrait at the Justice Department in Washington, Friday, Nov. 17, 2006. Ashcroft, a former governor of Missouri and a U.S. senator, served as President George W. Bush's attorney general from February 2001 to February 2005. (AP Photo/J. Scott Applewhite)
Actually, I was thinking that a variation on the photo below would have been a more appropriate portrait, since he was so fixated on the boobage of the Spirit of Justice statue that he had fabric draped strategically on it to hide them while he held office.
You can read the sappy, fawning transcript of the unveiling here, if you can stand it.
Ashcroft, you might recall, ended up with the AG post after he suffered the embarrassment of losing a race for the Senate back in 2000 when he was on the ballot against the popular — but dead — Mel Carnahan, who perished in a plane crash.
***
It's open thread time…