Batteries not included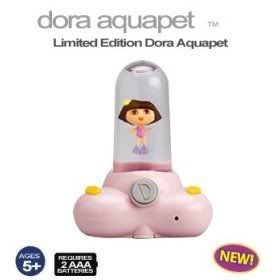 Do you wonder what the toy designer was thinking about while sketching ideas for the Dora Aquapet…limited edition? From the promotional page at Wild Planet Toy Store:
Talk to her!
Laugh and play together!
Share your secrets with her!
Give her love!
Discover her songs and dances!

She also plays and interacts with the Boots too!
Have an adventure with Dora the Explorer, your interactive friend!
Not. Sh*tting. You.
Someone please alert Daddy D! Amazon has a SpongeBob SquarePants "collector's edition" up.
The hat tip goes to NDT.