Our own Russ is America's Next Great Progressive Talk Star!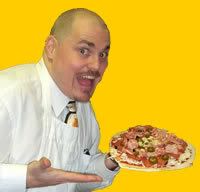 We need a new pic of him behind a mic, lol.
And all the Blenders are beaming like proud parents, too. Blend Barista "Radical" Russ Belville did a fantastic job under pressure, edging out fellow contestant Curtis Hannum by one vote — the tie breaker was cast by progressive radio star Ed Schultz.
I just sent Russ the online chat from the Blend Coffee Klatch, where regulars were following the event live on talkprogress.org.
Check out Russ's "diary" from yesterday as he was prepping for his big event.
If you Paypal a few smackers (see the icon in the right-hand column) by 6PM, I'll pass on the proceeds to Russ so he can enjoy a good night on the town with his wife in celebration of his big win. If it wasn't for her, Russ wouldn't have entered the contest to begin with. She deserves a big thank you.
Onward and upward Russ!