This wife beater is not a t-shirt
More GOP family values; pull out the tiny violin for a pol in Minnesota.
Apparently Rep. Mark Olson shoved his wife to the ground several times, leaving bruises, which were observed by sheriff's deputies called to the home at the time of the incident.
With a Bible in his hand and looking haggard from two nights behind bars, Rep. Mark Olson, R-Big Lake, walked out of the Sherburne County jail Tuesday seeking forgiveness from his wife, the public and God after being charged with two misdemeanor counts of domestic assault after an incident Sunday at his home.

Olson, 51, who was just elected to his eighth term in the Legislature, stopped short of acknowledging guilt for the charges.

"I have failed terribly in my family affairs. I'm grateful for my wife's strength to speak up. First of all I need God's forgiveness and I need my wife's forgiveness and my family's. Then I need the public's forgiveness and all other officials I've done harm to." Olson was released without bail. He was ordered to stay away from his wife and children and from their home.
Olsen said he has not considered resigning.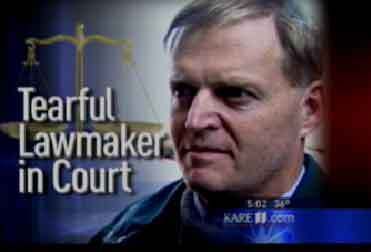 There's audio of this sad sack begging for forgiveness in front of reporters. Perhaps he should have though about anger management and responsibility before he worked over his spouse.
Fun fact: Mark Olson is also listed in the Minnesota Young Republicans' Hall of Fame.
For more on this, including copies of the police report, head over to Dump Mark Olson.