This probably won't be on your holiday shopping list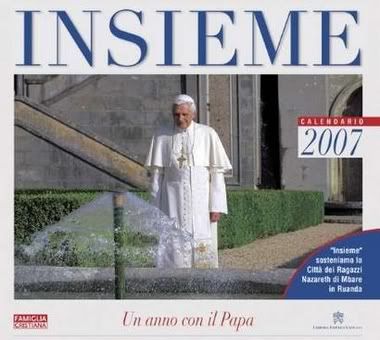 Not a joke – get 12 months of Prada Papa Ratzi to hang on your wall. (Times Online):
Competing for space on the newsstands with siliconed starlets, muscular football players and the cats of Rome later this month will be a new calendar: 14 full-colour photographs of the Pope in leisurely poses.

All were taken in a day's shooting at Castel Gandolfo, the Pope's magnificent summer residence in the hills east of Rome.

This is not the first papal calendar — those illustrated with photographs of the late John Paul II during his travels or audiences were popular — but it is believed to be the first time that a pope has agreed to pose for one.

Benedict XVI, who succeeded John Paul II last year, has already earned a reputation for stylishness and attention to the aesthetic details of papal attire. There are sunlit views of the pontiff, dressed in a long white habit, reading a book (we are informed it is a German edition of the Epistles of St Paul), and in his library perusing the many ancient volumes.
And in an I'm-not-sh*tting-you moment, here's another photo form the calendar (Mr. June) with its actual caption:

In this handout picture made available Wednesday, Nov. 8, 2006 by Italian Catholic weekly Famiglia Cristiana (Catholic Family) shows one of the photos from the Pope's Benedict XVI 2007 calendar. He has already been spotted as a fashion follower, from his signature shades and shoes, to his ermine trimmed velvet robes, but now Pope Benedict XVI is trying his hand at modeling for a 2007 calendar to come out later this month. For each calendar sold, 1 euro (US$1.28) will go to the charity. (AP Photo/Famiglia Cristiana, Giancarlo Giuliani, HO)
I wonder if the calendar comes with snippets of his anti-gay speeches as well to accompany the shots, so we can enjoy them throughout the year.