Why can't Haggard get his story — ahem — straight?
If you've been following the Ted Haggard debacle, it's hard not to notice that the former pastor of the 14,000-member New Life Church in Colorado Springs and departed president of the multimillion-member National Association of Evangelicals (and one of Time's 25 most influential evangelicals in America) has told a shifting story that doesn't make a lot of sense.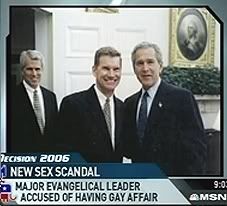 Pastor Ted, who bragged that he teleconferences weekly with White House on policy, hasn't gotten his story straight since sex worker Mike Jones came forward to tell the tale of Haggard's monthly appointments over three years for paid sex — and meth use.
Just a recap of Haggard's lies version of events…
Set up: Mike Jones goes on KHOW talk radio and alleges he had sex on a monthly basis with Haggard over three years using the name "Art" and he used meth before the two had sex.
Lie #1: The story breaks — Pastor Ted denies it all, and states that he didn't know Mike Jones.
This denial is accompanied by a careful statement "I've never had a gay relationship with anybody. … I am steady with my wife. I'm faithful to my wife." He denies using drugs. On video that has that aired widely, he even actually asks a reporter what Jones's name is, as if he doesn't know the guy.

Well that lie had a short life.
* Jones provides media with recordings he says are Haggard (requesting a meth buy), which a voice identification expert hired by KUSA found nine of 12 words were "perfect matches. Haggard fesses up.
Haggard on tape: "Hi Mike, this is Art. Hey, I was just calling to see if we could get any more. Either $100 or $200 supply."
Haggard's response to the above: "Yeah, I did call him. I did call him."
Lie #2: Ted admits buying meth from Jones but says he never used it — he threw it away.
"I bought it for myself but never used it. I was tempted but I never used it."

This ludicrous statement just doesn't wash, it's a sorry statement that Pastor Ted is floating that he thinks is going to fool everyone. Even worse, on the recording, Haggard asks if he "could get any more" — that suggests he's either been doing meth before — or he likes to buy it and throw it away for recreation. Not.

As Blender Fritz pointed out in one of the threads, when your average person goes for a massage, who casually brings up a drug buy?

If you consider this logically, it is quite a leap to go from getting a legit massage to buying meth. There had to be some degree of intimacy in order for that to happen. Think about it. Was he on the massage table — a minister — and the conversation casually turned to meth?

And, why would anyone use a false name to get a legitimate massage?

"I'm going to massage your upper back now, Art. Just let me know if it hurts."

"Oh, it feels great. By the way, do you happen to know where I can buy some meth, Mr. Masseur?"

"Sure do. All legitimate massuers sell meth. How much do you want?"
Likely Lie #3: Pastor Ted simply wanted a massage, not sex. He said he had received a referral at a hotel for a massage with Jones, but he did not say which hotel.
Based on what's been reported so far, no one can prove Ted had sex with escort Jones — unless there's some DNA of Haggard's or video that Jones has under wraps, but Pastor Ted's on really shaky ground here. At some point he's probably going to parse this one and tell us he received a massage everywhere except his privates. Fellow commenter Mark noted:
Jones says he always met Haggard at his home, NO HOTEL clerk gave Haggard Jones's name (as he claims), and Jones ONLY advertised in gay magazines and gay websites. So already Haggard is shown lying AGAIN.Then the question arises why is Haggard reading gay magazines, or visiting gay websites? Why does a straight man seek out a gay massuer? Why does a straight guy need to go through all that much trouble to just buy meth, which he claims he didn't use?
Pastor Ted, btw, hung around gay bars to recruit homos to come to his church back in the day. Maybe he was doing outreach…
Isn't telling a string of lies about his behavior unseemly for a the spiritual leader of a mega-church who believes in the sanctity of marriage and warns everyone about the evils of homosexuality?
[youtube=http://www.youtube.com/watch?v=W6rSjrBhUIA]
Related:
* Lying liar Falwell: 'I never met Haggard'
* Escort reveals more details on GMA, fails initial polygraph
* Pastor Ted admits to some of the escort's allegations
* That was fast — Haggard resigns (w/Freeper commentary)
* Daddy D's simply outraged that Ted Haggard is being accused of homosex
* Mega-church leader denies 'sexual business relationship' with male escort