Escort reveals more details on GMA, fails initial polygraph
The sleazy, sad saga continues. Mike Jones, the escort who alleges megachurch pastor Ted Haggard paid him for sex over a three-year period is featured in a good long piece on Good Morning America (via Ablog).
Jones charges that Haggard not only did meth with him, but that Haggard said he did the drug before having sex with his wife. The segment includes the phone calls where Haggard asks Jones to obtain a "$100 or $200 supply" for him.
[youtube=http://www.youtube.com/watch?v=3zbCTLK01wk]
What is somewhat problematic for Jones is the breaking news that he failed the first polygraph that he initiated, though a lack of sleep could have affected the results. (Rocky Mountain News):
The polygrapher, John Kresnik, said the results "indicated deception" but he also believed the results may have been skewed because the accuser, Mike Jones, was suffering from a migraine and didn't get much sleep.

"I'm disappointed with myself," Jones said on Peter Boyles' morning talk show on KHOW radio after taking the 90-minute polygraph. "I feel like I've disappointed a lot of people. I initiated it and I'm willing to accept the consequences of it."

However, Jones said he "would not back down" from his original accusations. He also said — at the prompting of Kresnik — to take two more lie detector tests after he got some sleep. Jones said he only got two hours of sleep.
Since Pastor Ted has already admitted to "indiscretions" involving Jones, and there's been a voice match to the phone messages to Jones, it's clear something is true; Haggard hasn't yet disclosed what he did.
***
Meanwhile, PageOneQ located the web page of sex worker Jones. These are some of the services Mike has to offer on his web site. Perhaps Ted only needed a massage…
MASSAGE BY MIKE
Voted best massage and personal trainer for the years 2000, 2001 and 2002 by readers of the community newspaper Out Front Colorado. Former state bodybuilding and powerlifting champion.

I offer a deep tissue and swedish style massage with the pleasure of the man in mind. If you like a strong muscle man to bring pleasure to you then please call me. I am a muscle stud with a friendly personality and a caring heart. When the Broadway shows play in town the cast and crew call upon me for massage.

I am 5″8 and weigh 190 lbs.
My arms are 18 inches.
My chest is 47 inches.
My waist is 32 inches.
My thighs are 24 inches.
I have brown hair and blue eyes.

My rates are as follows:

In calls at my place in Capitol Hill of Denver: $70.00 per hour $90.00 1 1/2 hrs.

Out calls start at $100.00.
Oh wait, this is what Jones claims Haggard really had on his mind: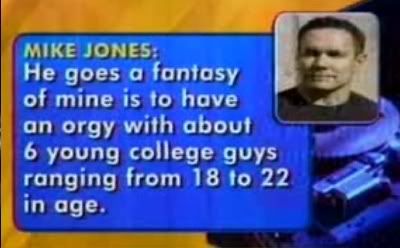 Hat tip, Nelson.