Zogby: Dems gaining ground in House races
The chart below from Zogby is good news overall. Dems are ahead in 12 of 15 key races where the seats are held by Republicans.
Since the last round of Reuters/Zogby polls in early October, when Democrats led 11 of the 15 races, Democrats improved their standing in nine districts and Republicans gained ground in six.

Three districts switched leaders, with two Democrats, Ken Lucas in Kentucky and Bruce Braley in Iowa, and one Republican, Rep. Thelma Drake of Virginia, moving into the lead after trailing in October.

"Democrats are getting very close to that magic number of 15," pollster John Zogby said. "Republicans are really on the ropes."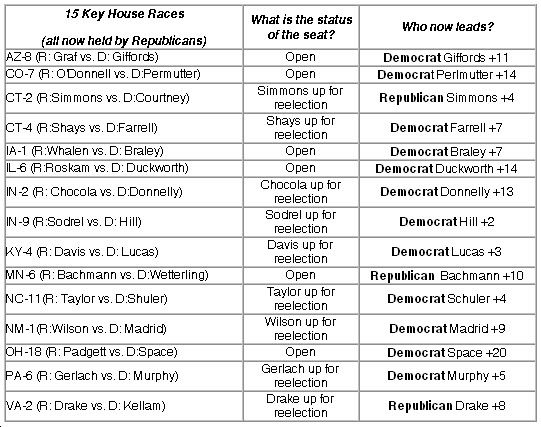 The glaring stat up there is that homobigot Michele 'God called me to run for congress' Bachmann has a ten-point lead over challenger Patty Wetterling.
How on earth could there be that many deluded wingnuts prepared to vote for this woman?
[youtube=http://www.youtube.com/watch?v=SJ4wtwcrybM]
"He created the male and female and he brought them together and that's what marriage will be…In the midst of that calling to me, God then called me to run for congress…In the midst of him making this calling sure, what's occured in this particular race is that this congresssional seat – one of 435 in the country – has become one of the top 5 races in the country and in the last week has become one of the top three races in the country and you may have seen now God has in his own will and in his own plan has focused like a laser beam after this scandal that came up about a week or so ago he has focused like a laser beam with his reasoning on this race.
Related:
* Michele Bachmann tries to dig Pastor Mac out of an IRS hole