The homobigots behind the Wisconsin marriage amendment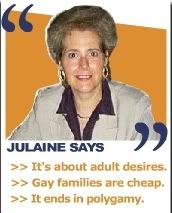 That's Julaine Appling above. She's executive director of the Family Research Institute of Wisconsin ("preserving marriage and family, life and liberty"), and serves as president of Vote Yes for Marriage.
I guess we could call her Wisconsin's Daddy D (would that make her "Momma A"?). She's the queen of the homobigot soundbite, as she works the final stretch to try to pass a marriage amendment in her state. Her organization is affiliated with Focus on the Anus, the Family Research Council and the Alliance Defense Fund, so these folks are part of the machine.
All of these organizations know that Wisconsin is a battleground. It has the best chance of being the first state to turn away a marriage amendment at the ballot box. Current polls show 51% back the amendment barring same-sex marriage and civil unions, 42% are opposed — 7% are undecided. Turnout will be key.
Fair Wisconsin has put together a page of Appling's "Greatest Hits," and they are as unhinged as the best of the AmTaliban (the site includes audio clips). Here's a taste from Behind the Ban:
"We're no Missouri; we're no Mississippi; we're not Alabama and Georgia… we live in the shadow of Madison. With heavy pockets of people engaged in the behavior of homosexuality in Madison, Milwaukee, La Crosse, and other major population areas as well."

"What they're telling us is they are really much more interested in destroying marriage than in redefining it to include their perversion."

"I think we've been extremely tolerant in allowing [homosexuals] to live wherever they choose."
On this page you can also learn more about the legislators behind a marriage equality ban, Sen. Scott Fitzgerald (R-Juneau) and Rep. Mark Gundrum (R-New Berlin).
A recent Daily Press editorial scorched the amendment — Why a civil union ban is bad for business.