Analyst: Ohio's Blackwell losing because of MSM and 'Republican apathy'
OMG. I'm in stitches over this one.

Fundie homobigot Ohio Secretary of State and Republican candidate for governor, Ken Blackwell, is trailing Democratic Congressman Ted Strickland in the polls, despite strong support from Russell Johnson, founder of the Ohio Restoration Project, bible-beating Talibangelist Rod Parsley of Reformation Ohio, and a few black homobigot pastors.
Somehow, for some reason, he's just not catching on with the wingers, despite a strong stand on the sanctity of marriage and stumping from Dear Leader.
Now, a political analyst in the Buckeye State takes a crack at why, and it's laughable. (AgapePress):
An Ohio-based political analyst says Republican apathy and the left-wing media could be behind Republican Ken Blackwell's continuing low poll numbers in his race for governor. But those polls could be misleading, he notes. Dr. Peter Schramm is executive director of the John M. Ashbrook Center for Public Affairs, and a professor of political science at Ashland University. Schramm says a recent Columbus Dispatch poll did not bode well for the Ohio secretary of state who is opposing Democratic Congressman Ted Strickland.

The political analyst thinks there could be a couple of reasons Blackwell is not getting any traction. "[Republicans are] just not paying close attention to the race yet. That's one reason why he's down in the polls," he contends. "And the other is the media, of course, has given Strickland … visibility. They're just excited by the prospect of him running." But Schramm thinks that the Dispatch poll may be underestimating Blackwell's strength among black voters, where he is only polling at 15 percent. "He's never gotten, according to the lowest estimates, less than 22-23 percent of the black vote for any statewide race he's ever run for — and I think the more rationale estimate is about 33 percent," says Schramm. "Well, if he gets about 33 percent of the black vote, he's going to be doing very well indeed. I think he will." Schramm says even though things might look bleak for Blackwell right now, he still believes the pro-family candidate can pull it out.
I'm sure some voters are apathetic, but Blackwell's been getting plenty of press.
The bigots are simply not going to turn out for the black Republican. Do the math.
Related: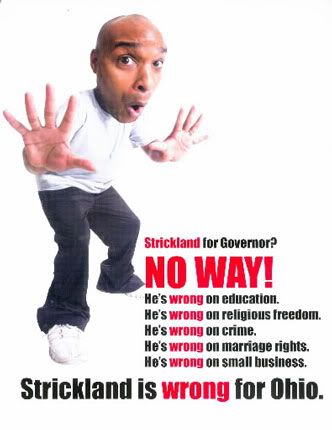 * Homobigot Ken Blackwell going nowhere with GOP voters in OH gov race
* The friends of homo-bigot Ken Blackwell
* Ken Blackwell's outreach flyer
* Ken Blackwell is a vile individual
* Ken Blackwell is a vile individual, part 2
* Chris King's 1st Amendment Page on Blackwell
* More posts on Blackwell