Open thread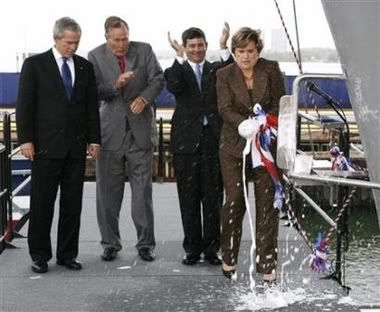 Actual caption: (L-R) U.S. President George W. Bush, former President George H.W. Bush and Northrop-Grumman sector president Michael Petters watch as Doro Bush Koch christens the USS George H.W. Bush at Northrop-Grumman's shipyard in Newport News, Virginia, October 7, 2006. (Kevin Lamarque/Reuters)
Bush actually said this at the event, referring to the ship:

She is unrelenting. She is unshakeable. She is unyielding. She is unstoppable. As a matter of fact, probably should have been named the Barbara Bush.
***
Meanwhile, a Newsweek poll shows the Chimperor's approval is at a near-record low again: 33% percent, down from 36 percent in August.
***
No shame
Here's Tom Reynolds and his fresh new feeble propaganda to NY constituents re: Foleygate — "to let you know the facts…I trusted that others investigated." Oh, it's sad.