Happy Blogiversary to Shakes Sis
Fellow bloggrrrl and super ally Shakespeare's Sister celebrates two years of sticking it to the Right. She and her stable of contributors were very deserving of the Koufax for Best Group Blog this year.
We met (virtually), when she came over to the Blend in 2004 to frankly discuss race and hair — something most commenters tiptoed around before the blog become well-known as a place to have open discussion on the topic.
Fun fact: Shakes Sis designed the Blend's spiffy logo above. Many thanks, friend.
And hey — how can you not love a graphic like this: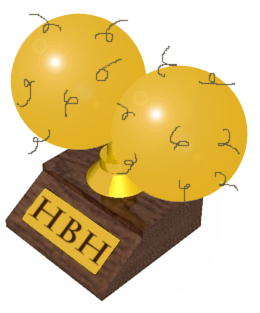 It's "The Shakespeare's Sister Hairy Balls of Hypocrisy Award" that she just gave out today for Newt the Craptacular's dumb*ss comment that Dem sex scandals are worse. Hahahahahaha.
***
Many more kick-*ss blogging years ahead for you, grrrl.