Wednesday AM Foley update
In order to maintain sanity, I simply turned off the news last night and didn't subject myself to the Foley deluge. I couldn't take any more of the GOP apologists trying to explain it all away.
Yesterday's purported bombshell press conference by Foley attorney David Roth to announce that the former congressman was molested by a priest — was complete BS, an insult to abuse survivors everywhere. Yes, that and the alleged boozing (which a fellow Republican, Rep. Peter King (NY) calls "a gimmick") explains how the man couldn't take any responsibility for his actions. Another nice lesson for the children.
***
In the "they want to believe department": Faux News labels Foley as "D" in a clip on The O'Reilly Factor. (via BradBlog)…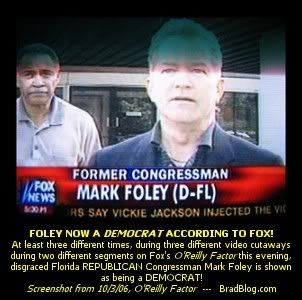 Brad notes that in the late-night rerun, Fox scrubbed the chiron so that there's no label under Foley's pic. You can see that shot at Brad's pad.
***
Conservatives are ready to cut the GOP leadership loose:
Conservative activist Richard Viguerie said Hastert should go. "We are not going to get to the political promised land until we have new leaders, and it's time for pretty much all of the leaders to leave," Viguerie told CNN.

"There isn't much time to right the ship," said a top Republican Party aide. "Somebody has to take the fall."

"The big danger for Republicans is they are going to reach a tipping point with the conservative base and they are going to stay home," said Republican consultant Rich Galen.
And this:
Phil Burress, president of the Cincinnati group Citizens for Community Values, said that among Christian conservative voters, the Foley scandal "just sows more contempt for Congress as it becomes nothing more than a playground for sexual perverts."
***
We now learn that Foley was touchy-feely with the male pages as well…

In an interview with USA TODAY, a former page said he was always surprised that Foley would pay so much attention to the pages, especially the males. Tim Ford, a freshman at Stanford University who worked as a page in 2004-05, said Foley would routinely pat them on the back or place his hand on their legs. "I would always give him the benefit of the doubt because you just like it when a member of Congress notices your work," Ford said.
***
The Child Welfare League of America called on members of Congress to enact legislation requiring that they be mandatory reporters of child abuse and neglect. The new law would require key professionals and those responsible for the care and safety of children to report instances of child abuse and neglect.
***
You haven't made it until the Freepers single you out
Mike Rogers (Blogactive, PageOneQ) has his own thread in the swampland: Is Gay Activist Mark Rogers Behind The Foley "Outing"?
Actually, he got a double-dip, getting a full blast in a WingNutDaily act of desperation to shift the story: 'Gay' activist held info about Foley.
***
Michael Petrelis wondered whether HRC or Hilary Rosen would ask for money that they donated to Foley be returned. It looks like HRC, at least, is now considering this, according to the Washington Blade.
***
Quote of the day
"Given the fact that the current Republican leadership in the House has never hesitated to attack gay people, it's even more absurd for people like Newt Gingrich to say the reason they didn't take prompt action was because they didn't want to be accused of 'gay bashing.' Cut me a break."
— Matt Foreman, executive director of the National Gay and Lesbian Task Force
***
The National Youth Advocacy Coalition comments on the mess, calling for a federal investigation of Foley. NYAC's Executive Director Craig Bowman:
"Gay or straight, Congressman Mark Foley's behavior is like that of a predator who should be arrested and prosecuted for his criminal behavior," the group said in an Oct. 3 statement. "And those around him who knew, and did not act to stop him, are just as guilty.
***
The unhinged Linda Harvey, of Mission[ary Position] America weighs in, with a particularly nasty entry (par for the course, h/t BarbieAnn), and blames the scandal not only on the homos, but RINOs in general:
Apparently, Rep. Mark Foley is homosexual. And like many homosexual men, he likes young teen boys. We should pray for him that he gets a handle on this problem and refrains from harming any more kids.

Get these people out of the party! The "It's My Party Too," or IMPT, "advisory board" is replete with child-unfriendly Republicans.

…Sexual fascism is alive and well in the People's Republic of Massachusetts, thanks to liberal Republicans. And don't look to Gov. Mitt Romney for help on this. He has yet to take a strong position that affirms traditional marriage or protects our kids against homosexuality. [Hahahahahahahaha. He can't win, can he?]

Other members of IMPT (or as I like to call them, "EMPTY"), are Sen. Susan Collins, R-Maine, Rep. Christopher Shays, R-Conn., and Rep. Mary Bono, R-Calif., who all voted against the federal marriage amendment. Foley also voted against the marriage amendment, predictably. And Sen. Arlen Specter, R-Pa., voted for it in 2004 and against it in 2006, showing the courage of his flexible convictions.

…Open or suspected homosexuals should never be elected. The problem with homosexuals is that they frequently don't have common sense and don't acknowledge appropriate boundaries. Weird sex, public displays of "affection" and nudity, and sex with youth are built into the "gay" sub-culture. Witness any pride parade, stroll around any predominantly "gay" neighborhood, or visit "GLBT" websites and you quickly see the prob
lem.

…We are insane to allow suspected or open homosexuals to assume positions as public officials, pastors, teachers, camp counselors or coaches. Then there are the Girl Scouts and Boy Scouts. The Girl Scouts have caved on this, as lesbians now are common among leadership.
Oooh…the lesbians finally get mentioned in all of this! Trust me, this screeching goes on and on, talking about Ah. I love the smell of wingnut hysteria in the morning…keep at it Linda, you're making your side look really good. Does she not realize that gays and lesbians already hold these leadership positions without any evidence of such scandal or deviance? I certainly wouldn't condemn all heterosexuals based on the behavior of a few, but that would require more critical thinking skills, which she apparently doesn't possess.
***
Speaking of Linda Harvey's insane charges, I could go find lots of stories to counter her notion that it's only homos endangering the children, but Richard Rothstein of Proceed At Your Own Risk has done if for all of us. A few choice examples, Republican and Dem:
1992: A popular Republican Senator from Oregon is charged with sexually harassing 10 female ex-staffers and the Democratic Senator from Hawaii is also accused of similar misconduct.

1990: A Republican Rep from Minnesota, married and with seven children, was caught having phone sex with a female lobbyist–several hundred times according to the phone bills.

1989: Republican Rep. from Ohio is found guilty of of paying a 13 year-old-girl for sex.

1989: An Illinois Republican Rep gets in troubling for fondling female Peace Corps workers in Zaire.

1981: The Wilmington News-Journal reports that three House Republicans Strom shacked up for an unusual vacation in Florida with a Playboy Playmate. All four shared a cottage. Two of the Reps denied having sex with her, but one of them publicly asked "his family and God to forgive him."

1980: An Illinois Republican engaged in sex with a 17-year-old female page.
We all know that list of moral leaders could fill a phone book.
***
For a local spin, it looks like NC pols on both sides of the fence are squawking about the debacle…(WRAL):
Republican Rep. Robin Hayes, who received money from political committees run by former Rep. Mark Foley of Florida, was under particular pressure, both from state Democrats and re-election challenger Larry Kissell, a high school teacher running a grass-roots campaign against the well-funded incumbent from Concord.

"The first time that Robin was aware of any problems with Foley and this e-mail issue was when he heard it on the news like everybody else," Hern said. "I wouldn't say that he and Rep. Foley hung out. They had a working relationship, but not a friendship outside of work." [Guess he wanted to make it clear that he wasn't out gay bar-hopping with Foley…]

…Hayes' office said Monday he would redirect $4,500 he received from two of Foley's political action committees to a handful of charities, including the Cabarrus County Boys and Girls Club, a children's home and a daycare center.

Democrats in two other closely watched races — incumbent Rep. Brad Miller and challenger Heath Shuler — don't plan to raise the issue, their campaigns said.

…Spokespersons for North Carolina's two Republican U.S. senators, Elizabeth Dole and Richard Burr, said those lawmakers also intend to donate to charity the smaller contributions they received from Foley.
***
Also:
* How low can you go — Tom Reynolds hides behind children
* Foley's attorney: he was molested by a priest as a child
* OK, enough. Hastert has to go NOW.
* Dear Leader speaks…
* Foley interrupted floor vote to have cybersex with page
* Page threatened, Foley still using AOL screen name
* Eating their own – Boehner drop kicks Hastert
* Tuesday AM Foley roundup
* More GOP family values: Foley aide tried to cut a deal with ABC's Ross
* More info on Foley's well-known predator rep among pages
* They knew about Foley in 2001
* There should not be silence
* GOP leadership: spinning for the election home stretch, but nowhere to run on Foley
* More Foleygate
* Foley blasted 'vile' Clinton in 1998 for his 'sad sexual addiction'
* Resolution for ethics probe over Foley passes 410-0
* Denny Hastert must resign for doing nothing about Foley
* Foley drops out of re-election campaign
* What the heck was Mark Foley thinking?