Open thread – a greeting for Dear Leader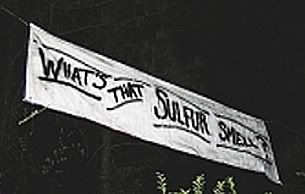 This photo of a banner put up in honor of the fart boy in chief was sent in to Kathy at Birmingham Blues.
Bush is visiting Alabama today and will be making a stop in The Magic City (to fundraise for Governor Bob Riley's re-election campaign). Like most of Dear Leader's stumping and shilling these days, it's under wraps — the events aren't open to the public.
***
Open thread…links and blogwhoring highly encouraged.