George Allen: the stale cracker, part 2
"Allen said he came to Virginia because he wanted to play football in a place where 'blacks knew their place,' He used the N-word on a regular basis back then."
— Dr. Ken Shelton, a white radiologist in North Carolina who played tight end for the University of Virginia football team when Allen was quarterback.
The hits keep on coming for the cracker lovin' Virginia Senator, who's watching his words come back to haunt him — again. (Salon):
Three former college football teammates of Sen. George Allen say that the Virginia Republican repeatedly used an inflammatory racial epithet and demonstrated racist attitudes toward blacks during the early 1970s.

…A second white teammate, who spoke on the condition of anonymity because he feared retribution from the Allen campaign, separately claimed that Allen used the word "nigger" to describe blacks. "It was so common with George when he was among his white friends. This is the terminology he used," the teammate said.

A third white teammate contacted separately, who also spoke on condition of anonymity out of fear of being attacked by the Virginia senator, said he too remembers Allen using the word "nigger," though he said he could not recall a specific conversation in which Allen used the term. "My impression of him was that he was a racist," the third teammate said.
Salon contacted Allen's Senate office, and members of his campaign for comment (email and phone), and no one has responded. One consultant to Allen hung up on a Salon reporter.
Tossing the "N" word around is one matter, but look at this hair-raising anecdote from Shelton.
Shelton said he also remembers a disturbing deer hunting trip with Allen on land that was owned by the family of Billy Lanahan, a wide receiver on the team. After they had killed a deer, Shelton said he remembers Allen asking Lanahan where the local black residents lived. Shelton said Allen then drove the three of them to that neighborhood with the severed head of the deer. "He proceeded to take the doe's head and stuff it into a mailbox," Shelton said.
Allen, who wore a Confederate flag pin in his high school yearbook photo, had a Confederate flag in his living room, a noose in his law office and a picture of Confederate troops in his governor's office, says "he has grown since then."
Of course he said that before this bit of business came out. If it was a "youthful indiscretion" (or at this point a long list of them), then his campaign shouldn't have a problem discussing it as a matter of the past. Hanging up doesn't sound like the Allen campaign has a game plan for spinning this one.
Too damn bad.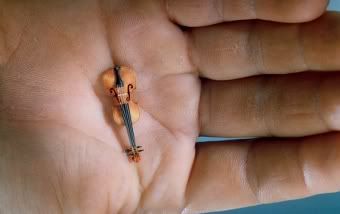 Oh, don't forget to catch the anecdote in the article where Allen gives Shelton the nickname "Wizard" — after United Klans imperial wizard Robert Shelton.
Related:
* George Allen: the stale cracker