Greensboro Right to Serve protestors arrested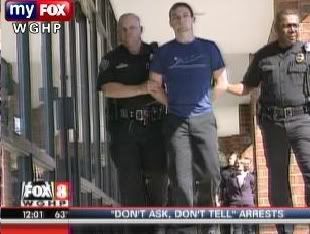 You can see pictures here, and video from Fox 8's noon broadcast . (Greensboro N&R;):
Openly gay students Jessica Arvidson, Matt Hill Comer, Alex Nini and Stacey Booe tried to enlist in the U.S. Army this morning in an effort to challenge the 13-year-old "Don't Ask, Don't Tell" policy as part of a 30-city project called the Right to Serve campaign.

They weren't allowed to enlist and then took part in a sit-in along with several supporters inside the Army Recruiting Center on Merritt Drive in Greensboro.
Here's more N&R; coverage; also visit Matt Hill Comer's blog for more.
***

UPDATE: Wingnut alert — the doyenne of the anti-gay, anti-woman Center for Military Readiness, Elaine Donnelly, weighs in on the Right to Serve movement via Don Wildmon's "news" organ, AgapePress:
The New York Times reports that pro-homosexual activists are engaged in a renewed effort to lift the ban on homosexual conduct by publicizing the stories of potential homosexual recruits or former members of the service who are homosexual. Elaine Donnelly, president of the Center for Military Readiness, explains what is happening. "[Young homosexuals are] going to recruiting offices … saying they want to sign up, and [when they are told they cannot serve] they are creating media events all over the country and even internationally," says Donnelly. "They're going to about 30 states, according to some news reports."

…"I think the people involved here do not have the best interests of the military at heart," says Donnelly. "They never have. They are promoting an agenda to normalize homosexuality in America using the military as a battering ram to promote that broader agenda."