Open thread
Today I took Kate to see Little Miss Sunshine (I had already seen it when I was in Delaware last week), and I laughed so hard that I cried — again. If you haven't seen it, run to the theater now. It's the best film I've seen this year. It's a shoo-in for an Original Screenplay nomination.
Once back at home, we intended to go out and do yard work, but instead chose to continue watching the DVD of Season One of Project Runway. Local blender Mykull kindly lent it to me, passing it on via fellow Blender minty, who did a marathon viewing herself.
As of this evening, we've finished all but the final episode, so no one post any spoilers! All I can say is that Wendy is evil incarnate.
***
Speaking of evil, here are some pix — my first thought was that this was a photo of a Rove/Mehlman-arranged GOP rally for The Base:

Caption: Members of the World Order of the Ku Klux Klan arrive at the Gettysburg National Military Park for a protest rally Saturday, Sept. 2, 2006 in Gettysburg, Pa. The KKK fielded 25 members for the event and their were no incidents. (AP Photo/Bradley C Bower)
According to the AP, Gordon Young of the Klan called for the U.S. to pull its troops out of Iraq and use them to patrol the Mexican border to stop illegal immigration.
Counterprotestors showed up as well….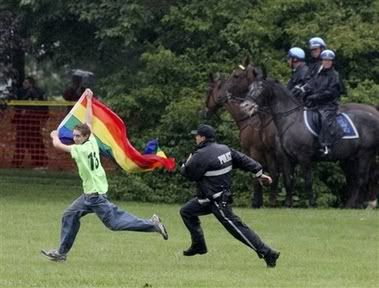 Caption: A counter protester is chased by a United States Park Police officer after he jumped the barrier separating protesters, during a rally being held by Members of the World Order of the Ku Klux Klan, at the Gettysburg National Military Park. (AP Photo/Daniel Shanken)