Ho hum. Only confirming that the E-meter has no effect on queer suppression…Scientology can't take the homo out of the man.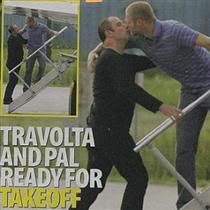 Caught by the Enquirer.
Why doesn't he just hang it up already; has anyone believed that marriage of convenience to fellow Church of Scientology follower Kelly Preston?
Q: Which stars need to come on out of the closet already?