The mullahs have nothing better to do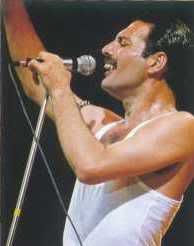 Islamic Clerics: Ban Freddie Mercury Birthday. Good grief.
He may be Zanzibar's most famous son but religious leaders on the mostly Islamic island are demanding the government block an international party to mark what would have been Freddie Mercury's 60th birthday.

The mullahs say that the openly gay Queen frontman who died of complications from AIDS in 1991 brought shame on the island because of "his lifestyle".

"Associating Mercury with Zanzibar degrades our island as a place of Islam," the islands' Association for Islamic Mobilization and Propagation said in a letter to the culture Ministry.

The letter, signed by chief mullah Abdallah Said Ali, said Mercury led a life condemned by Islam. Mercury was not Islamic.