Two teens charged with homophobic vandalism of lesbian couple's home
"I came to the rally today to show my support on this issue. What happened here is not indicative of Maine people or Maine values."
— Gov. John Baldacci, on the hate crime committed against two lesbian residents by teenagers.
This is awful. Anti-gay messages were scrawled on the walls of the small trailer in Poland, Maine owned by Keri Fuchs and Linda Boutaugh. Two young people, aged 12 and 14, broke into their home, smashed pictures, defecated on the floor of their bathroom, smeared it on the walls and completely trashed the house and a car.
You can see pictures and video of the horror here, on a site created by one of Boutaugh's sons.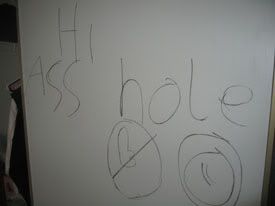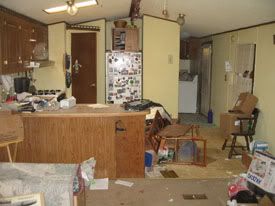 "Hi Ass hole", as well as a figure of a penis crossed out and a vagina circled (implying that the owner's of the home are man haters and only love vagina."
What kind of homes do these young people come from? Fuchs even lost a box that contained her late father's ashes. Mike Tidmus has a some thoughts on what kind of environment breeds this level of hate.
Congratulations Christian Civic League of Maine.

Mission accomplished!
The Christian Civic League of Maine, directed by Mike Heath, is a distant and less successful kissin' cousin of Colorado's Focus on the Homo Family. Heath and company have harangued Maine voters with their jesus-coated homophobia for years. Maine has passed a gay civil rights bill not once but three times over the last decade. Each time, the CCLM has opposed the bill and the issue has been sent to Maine voters. Each time, following a bitterly-contested campaign, CCLM has lost, including most recently last November. Mike Heath and CCLM should accept their share of responsibility for what happened to Linda Boutaugh and Keri Fuchs. CCLM and its supporters fostered a climate of homophobia and, in doing so, created the perfect environment for hatred to fester and grow.
MaineToday.com has more on the background of these two young people.
The 12-year-old was arrested at his home Friday morning and taken to the Androscoggin County Sheriff's Office to be booked, said Capt. Raymond Lafrance.

The 14-year-old already was being held at the Long Creek Youth Development Center in South Portland for possessing property stolen in a separate incident, police said.

…The home off Route 122 was left in squalor, with a shattered television set, damaged paintings and human waste on the bathroom floor. A car parked in the driveway also sustained major damage.

…The two women were planning to move to East Millinocket even before their home was vandalized, in part because of the harassment, Fuchs said. They had found a buyer for their mobile home, but the sale fell through after the place was trashed, she said.
EqualityMaine has set up a Hate Crime Victims' Fund to assist Linda and Keri.