Blackwell can't get the Bush voters behind him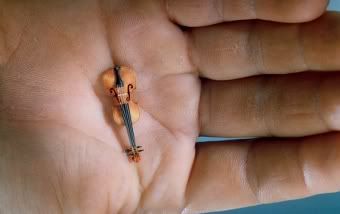 He's done his best to suck up to the anti-gay Ohio fundies, but it appears vile individual Ken Blackwell can't seem to get any traction with independents and, significantly, Bush voters. I wonder why…hmmm.
Look at how hard he pushes the gaybashing:
"I think homosexuality is a lifestyle, it's a choice, and that lifestyle can be changed. I think it is a transgression against God's law, God's will. The reality is, again, … that I think we make choices all the time. And I think you make good choices and bad choices in terms of lifestyle. Our expectation is that one's genetic makeup might make one more inclined to be an arsonist, or might make one more inclined to be a kleptomaniac. Do I think that they can be changed? Yes."
Even with that, Ken, a good number of Dear Leader's base in Ohio simply won't vote for you because you are b-l-a-c-k, no matter how hard you swing to the right, sorry to say. We're talking the Base of the GOP. A Columbus Dispatch poll showed that just 53 percent of the respondents who said they voted for President Bush in 2004 are lining up behind Blackwell.
I'm sure he knows this, thus the recent push to scare black voters into voting for him, pushing minstrel-worthy flyers in black areas.
Democrat Ted Strickland has surged to a surprising lead of 20 percentage points in the first Dispatch Poll on Ohio's Nov. 7 race for governor…Strickland's 47-to-27 advantage over GOP rival J. Kenneth Blackwell is fueled by a more than 3-to-1 lead among independent voters, combined with Blackwell's inability to sell himself to Ohio Republicans.

…Respondent Barbara Wardlow, a 70-year-old Republican from Clarksville near Cincinnati, said she's never voted for a Democrat, but that may change this fall. She said she doesn't like Blackwell but wants to learn more about Strickland before deciding.

Republicans' tepid response to Blackwell, despite the secretary of state's comfortable victory in the May 2 primary, shows up in several ways:

� Overall, 61 percent of Republicans are backing Blackwell, compared with the 81 percent support Strickland is receiving from Democrats.

� Just 53 percent of the respondents who said they voted for President Bush in 2004 are lining up behind Blackwell. There are 28 percent who remain undecided, but 18 percent are ready to vote for Strickland. Less than a majority of those who said they voted for Republican Gov. Bob Taft four years ago want Blackwell in the office. Taft voters are split 46 to 28 between Blackwell and Strickland. Strickland is winning the battle among those who said they voted for Democrat Tim Hagan in 2002 by 81 to 3.
Related: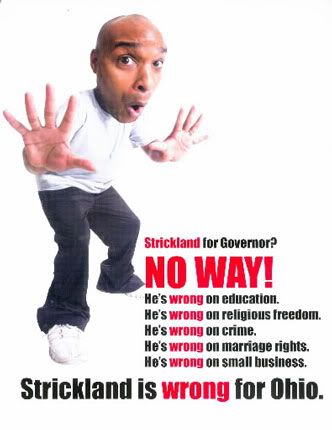 * Ted Strickland's tip jar
* Ken Blackwell's outreach flyer
* Ken Blackwell is a vile individual
* Ken Blackwell is a vile individual, part 2
* Chris King's 1st Amendment Page on Blackwell
* More posts on Blackwell