Impotence
An update about the complete chaos going on in the Middle East — Kate (for new readers, my wife is half Lebanese) hasn't heard any more information about her relatives who live over in Lebanon. Her family members from the U.S. (and other Alabamians they know) who were caught over there made their way out a few days ago, over land by car to Jordan, flew from there to Paris, then on to the States.
For her relatives who live there, as Lebanese Christians, it doesn't look good. They are caught in the crossfire, their homes being obliterated as Hezbollah and Israel duke it out — and the runways, bridges, ports in Beirut are being destroyed, preventing escape.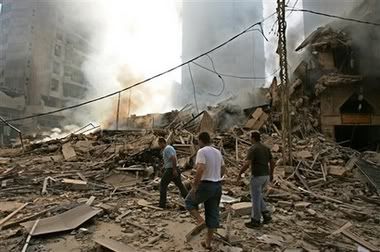 Lebanese men walk past the smoldering rubble and debris of destroyed buildings in the southern suburbs of Beirut, Lebanon. (AP Photo/Issam Kobeisi)
The Maronite Catholic Patriarch of Lebanon, Nasrallah Boutros Sfeir, met with Condi Rice to plead for some kind of intervention; he has since returned to Lebanon and is expected to chair an emergency meeting of the Maronite Bishops Council.
He couldn't have left this meeting with Rice feeling very confident about what was going to happen to the Christians there (they only make up about a 1/4 of the population) after this feeble exchange.
SECRETARY RICE: I am so very pleased that you could join me and I am, of course, very concerned about the events in Lebanon. I'm very concerned about the people of Lebanon, about Lebanon's freedom and democracy and a Lebanon where all Lebanese can prosper. And we are, of course, working very hard to make certain that Lebanon retains its sovereignty. We're working very hard to try and minimize the impact of the current conflict on the Lebanese people. And I want you to know that we're not only working hard, but we're also praying for the people of Lebanon.

MARONITE PATRIARCH SFEIR: Thank you. Thank you for the action you have taken in favor of this small country but there are many difficulties. The world says the Resolution 1559 will it be applied.

SECRETARY RICE: Yes.

MARONITE PATRIARCH SFEIR: But it is not up to the Lebanese Government to apply it. It is so weak to do so. There is another way to apply this, but I do not know how. But our interest is that all the citizens will be equal (inaudible). When some are having arms and the others have not there is no equality and I've said this a long time that — how to apply this I don't know. (Inaudible) perhaps, some other — some pressure to (inaudible).

SECRETARY RICE: Yes. Well, the international community has to help you.

MARONITE PATRIARCH SFEIR: Exactly. Exactly.

SECRETARY RICE: I mean that's it, the international community must insist on the enforcement of 1559 which we, the international community, passed. And so we will work.

MARONITE PATRIARCH SFEIR: There's a better way.

SECRETARY RICE: Yes, we will work.

MARONITE PATRIARCH SFEIR: Thank you.
Condi and Dear Leader plan to mind-meld about this on Sunday with his close family friend Prince ("Bandar Bush") bin Sultan, chief of the Saudi National Security Council. Now THAT will really be helpful. (AP):
Announcing plans earlier for a Sunday meeting that Bush and Rice will have with Saudi officials, White House spokeswoman Dana Perino said the idea was "to provide the president and Dr. Rice a chance to continue to strategize with a key partner in the region on a diplomatic solution that will address the root causes of violence and terror in the region."
The levels of complexity in this situation are so difficult to muddle through. It's difficult to watch, seeing how people who have no dog in this hunt — and no real way to defend themselves — get blasted away. The home of the abovementioned Maronite patriarch is among the towns shelled.
Among the Christian cities shelled is Junieh, north of Beirut along the Mediterranean coast, regarded as the "Jewel of Lebanon" due to its natural setting. A towering statue of the Virgin Mary overlooks the city, called "Our Lady of Lebanon."

…The Israelis argue they shelled the historic town because of concern over Hezbollah's use of the port to bring in arms or take out the kidnapped Israeli soldiers.

Now, a predominantly wealthy Christian sector in Beirut has come under Israeli bombardment and the Israelis have shelled the small town of Zahle in the Bakaa Valley north of Beirut. During the Lebanese Civil War from 1975 to 1990, devout Christian residents in Zahle successfully repelled Syrians who sought to occupy the town. At the time, the Israelis were major supporters of the Christians.

Unlike Hezbollah, there is no Christian militia that can take on the Shiite terrorist organization.
There were air raids near that town of Zahle; this is where a branch of Kate's relatives live. One bombing this week destroyed trucks carrying only medicine and food. Kate, who is checking all the time for news on what is going on, hasn't heard any word about how those folks are doing.
Sigh. It's all a big mess, and quite frankly, the U.S. looks impotent, because, well our government really can't stop what is, at its root, a longstanding conflict over religion and territory.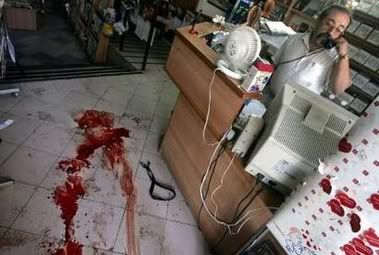 A shopkeeper talks on the telephone as blood is seen on the floor at the scene of a rocket attack in the northern Israeli city of Haifa, Israel. REUTERS/Yonathan Weitzman