Open thread – not ready for the heat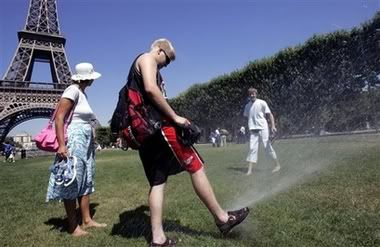 Visitors cool off with a sprinkler on the Champs-de-Mars facing the Eiffel Tower in Paris, Tuesday, July 18, 2006. French authorities issued an orange alert, the third-highest in a heat measuring scale ranging from the lowest green to highest red, as temperatures soared to 36 degrees Celsius (96.8 Fahrenheit) in many parts of the country. (AP Photo/Jacques Brinon)
Is it so cool most of the year in London that no one thought the Underground would ever need A/C? Record temperatures — 97 degrees, maybe even 101 in coming days — and people are sweltering in the tin cans below ground. I remember riding the NYC subway back in the 70s when the A/C was hit or miss on the old cars of the C and A lines. Nothing was worse than riding in a hot car, crammed like sardines, stuck in the armpit of someone who 1) didn't bathe and 2) didn't put on any deodorant.
On NPR today, the reporter said that the conditions people were exposed to in the Underground would be illegal to transport livestock under. (AP):
Lions licked blood-flavored ice blocks in the zoo, judges went wigless in court and guards at Buckingham Palace ducked into the shade. Britain faced the hottest day ever recorded in July on Wednesday as a heat wave swept much of Europe. Temperatures hit 96.6 degrees south of London — so hot some road surfaces melted.

…London's Underground has no air conditioning and the Evening Standard newspaper measured temperatures in the train system at 117 degrees. Operator Transport for London takes no measurements but did not dispute the figure.

"I don't even want to talk about it," said Jean Thurgood of east London, fanning herself frantically on a stuffy bus. "It feels like the hottest day of the century."
Thousands in Europe died from the heat a few years ago. From the look of these stats, the dearth of A/C is going to result in more deaths:
* Two people died in Spain — temps climbed above 104 degrees
* It reached 97 degrees in Paris on Wednesday (over 15,000 died in 2003 from heat-related factors)
* The mercury rose to 95 degrees in Berlin, 93.9 in Brussels, Belgium, and 95.5 in the Dutch city of Utrecht.
* In the Netherlands, the Nijmegen 4-Day March was canceled after two participants died in the heat. Some 300 people taking part in the popular walk became ill Tuesday in temperatures that reached 95 degrees and 30 were hospitalized.
This is insane. The article quoted an Australian man living in London for the summer and he said that not only is A/C a rarity, but many people don't even have fans.
Any overseas Blenders out there — why don't people have either fans or A/C after that 2003 nightmare? It's not like the global warming situation is going to get any better.
Related:
* Past Q of the day: could you get by without air conditioning where you live/work?