A film leather-tailor made for LaBarbera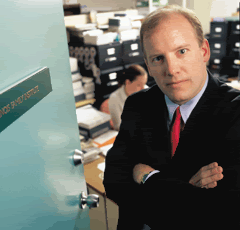 As Shakes Sis said about Illinois Family Institute's Peter LaBarbera when sending me this link — "She'll be the phone to preorder tickets from Fandango in no time!"
Gay-themed film "Mr. Leather" coming out.
Leather fans will hit the big screen early next year in "Mr. Leather," a documentary that examines an underground gay subculture.

Specialty distributor Here! Films has roped in worldwide rights to Jason Garrett's directorial debut, which follows nine men with a dream: to be crowned Mr. Los Angeles Leather.

In addition to following the black-clad contestants to the 2003 contest, where tastes ranged from police uniforms to metal-studded G-strings, Garrett interviewed sex experts, psychologists and doctors about the leather-fetish phenomenon.
What a bounty of perversion for him to "investigate"! Perhaps he'll wear his chaps to the screening (in the name of all things holy and family oriented of course). I can't wait for the review so I know what I'm missing.
Perhaps the DVD will be on Petey's pre-ordered or end up on his Amazon Wish List.