sHillary won't touch SSM with a ten-foot pole on her SF road trip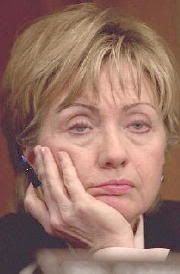 sHillary flew to San Francisco to offer her support to Democratic gubernatorial candidate Phil Angelides, and for some reason didn't have anything to say about marriage equality. Hmmmmm. What do you think is up with that? (SFGate):
New York Sen. Hillary Clinton — widely considered a 2008 Democratic presidential favorite — was surrounded in San Francisco on Friday by Democrats outspoken on the issue of same-sex marriage: a mayor who issued a landmark city decision to declare same-sex unions legal, a state assemblyman at the forefront of same-sex marriage legislation, and the party's pro-gay marriage candidate for governor.

But even standing alongside San Francisco Mayor Gavin Newsom, Assemblyman Mark Leno, D-San Francisco, and state Treasurer Phil Angelides, the Democratic candidate for governor, on the morning after New York's highest court upheld a state ban on same-sex marriage, Clinton steadfastly ignored questions about the issue.
Angelides, in contrast is right out front on the issue, saying he would sign a bill for marriage equality without hesitation.
"I consider one of the great blessings in my life that I grew up in a wonderful, stable, loving family. I believe every Californian, every American … ought to have the right to grow up in a loving family. And I would sign the marriage equality bill, because I believe that if we get behind people … being in loving relationships, that's a good thing for this society. And I'd sign the gay marriage bill because I'd hope that every child would have the opportunity to grow up in a loving family."
The article does get a dig in at the wish-washy NY senator by pointing out that on a 1996 book tour in the area, she had no problem articulating her position on SSM.
"Children are better off if they have a mother and a father," Clinton said in the San Francisco interview with the then-Hearst-owned San Francisco Examiner. "My preference is that we do all we can to strengthen traditional marriage … and that people engaged in parenting children be committed to one another."
That view, it is noted, echoes the majority ruling of the Empire State's highest court the other day, which ridiculously intimated that children are better off raised in traditional mother/father families.
***
An interesting blog post to check out is "The End Of Gay Marriage" over at thatcoloredfella.com. He's taking the position that we should set aside the fight for marriage equality (in this political round) to focus on civil unions, anti-discrimination measures and fair housing to name a few.
The majority opinion by the New York Supreme Court against gay marriage presumed 'societal goals' were grounded solely in the 'argument' that straight parents are better than gay parents, although no studies have measured any difference in the development of such children raised alternatively, at this point. However, given that the legal setback is disappointing, TCF believes there's finally a sliver lining to the decision.

Those of us on the Left should now spin this as an end to this costly wedge issue and concede that, for the time being, the American people – through the independent judicial branch that reflects their values – have spoken on the issue.

Gay Marriage may never happen in my lifetime and I really don't care to perfectly honest. As a gay man, I do have other priorities and causes that would improve my life, rather than focusing on having the right to have such an elusive commitment as recognizable and lawful.
I politely disagree, simply because backing off is precisely what the fundamentalists (as well as the "Class of sHillary" Dems) want. The horse of anti-gay political activism has been out of the barn for some time now, and if gays and allies don't pressure their purported political allies at high levels to speak up (as Russ Feingold and Ted Kennedy have; the list is sadly short), the media and "voter education" vacuum will be filled by the intolerant bigots who have a well-worn game plan.
These state amendments are passing because of political inaction by Democrats to counter the frame set by the religious right and Karl Rove, period. The fact is that the Rovian Right will not stop their campaign to demonize and legally discriminate against LGBT citizens; they will continue to try to appeal to the ignorance and homophobia in religious minority communities that may not vote for a Republican candidate, but they can be guided to vote for marriage amendments and provide obstacles against other anti-discrimination legislation by electing local officials who toe the fundie line.
SF Assemblyman Mark Leno was right when he said:
"there are unfortunately few national leaders who wish to address the subject and even fewer who wish to embrace it as the civil rights issue that it is…I believe that those of us who support marriage equality and the issue itself suffer due to the lack of leadership," he said. "We'd be making greater progress if we had some folks speaking up."
We can do the heavy lifting of being out and living our lives to show our friends and neighbors that gay equality is not a threat to their families, marriages or any of the homo nightmares being spun by the bible beaters. However, without a significant number of vocal political allies, we will continue to see anti-gay legislation pass, despite our significant equality inroads in the corporate arena in terms of anti-discrimination policies and courting of the gay market. Progress in both avenues is essential.
Hat tip, Paul