I don't know what to say…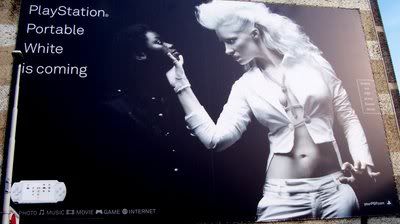 And neither did nubian at Blac(k)ademic, where I picked up this image. (Hat tip, Sarah in Chicago).
A real loss for words on this one. It's also up at Pandagon.
What was Sony thinking? You can ask:
Sony Computer Entertainment America
PO Box 5888
San Mateo, CA 94402-0888
800-345-7669 (800-345-SONY)
M-SAT 6:00 a.m. – 8:00 p.m. PST
Sunday 7:00 a.m. – 6:30 p.m
***
Let's go for a double dose.
How about this fun from a sheriff down in St. Tammany Parrish in NOLA. Jack Strain shares these loving thoughts about the crime fighting, pickaninny style, on camera.

"Now I don't get into calling people names and all that fact, but if you're gonna walk the streets of St. Tammany Parish with dreadlocks and "Chee Wee" hairstyles, then you can expect to be getting a visit from a sheriff's deputy."
See the video (via Crooks and Liars, H/t, Paul).
What was that about spokesbot Tony Snow and his bleating that racism is "rapidly becoming an ugly memory?"