Holy Joe collecting signatures for independent campaign
[UPDATE: C&L; has video of Joe escaping from reporters peppering him about his tanking poll numbers.]
I almost lost my lunch when I came across this.
U.S. Sen. Joe Lieberman, facing a stronger-than-expected Democratic primary challenge and sagging poll numbers because of his support of the Iraq war, will collect signatures for a possible independent run this November, a Democratic party source with knowledge of the decision said Monday.
Nedrenaline's got him down, so crybaby's ready to take his balls and go home. Polls show Bush's friend would win in a three-way race.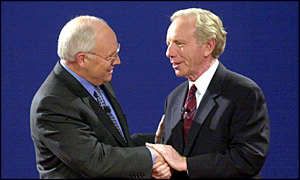 Feel the Joementum
The real news is whether the DSCC will back Holy Joe over Ned Lamont, a real Democrat.
More at Firedoglake.
UPDATE from Jane Hamsher (via Christy Hardin Smith) at Firedoglake. Holy Joe was said this telling statement at the press conference.:
I have loyalties that are greater than those to my party.
That closes the information loop, huh? That's all we needed to hear.
I wonder what Chuck Schumer and Co. at the Democratic Senatorial Campaign Committee have to say about who they'll be supporting…DCSS: 202-224-2447 or email here.