Bring on the Sodomy Squadron!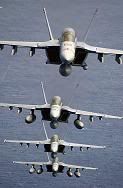 [Welcome Wonkette, PageOneQ and Raw Story readers.]
We have a new Homosexual Agenda weapon out there that I didn't know about — The Sodomy Squadron.
I was educated about this hidden resource by Joe Murray's AgapePress column, Have We Lost the Culture War? Tears of laughter streamed down my face as I read, astonished at the total domination of this country that we are achieving in such short order!
Dammit, we are powerful (and flying high while we're at it, according to Joe).
…Washington's America is no longer the America of today. The Judeo-Christian compass that once guided our leaders and citizens has been displaced. A new moral order, one fueled by hedonism and a mutated form of individualism, has taken its place. Translation: Christians have become strangers in their own country.

…If one digs deeper into the cultural psyche of America, he will find that Christianity no longer sets the standard for proper human behavior. The Sodomy Squadron has been flying high, for the Supreme Court has deemed sodomy a fundamental right, the Federal Marriage Amendment was DOA, and Massachusetts strong-armed the Catholic Church into ceasing its adoption program when it demanded that a Catholic agency allow same-sex couples to adopt children under the care of the Roman Catholic Church.

In the political sphere, traditionalists have been hit even harder. Despite the fact that the GOP has control of Congress and the White House, this year's "America's Values Agenda" has failed to spread its wings. While the Flag Burning Amendment was only narrowly defeated, the bill to protected the words "one nation under God" in the Pledge of Allegiance became a political Hindenburg. As reported by Associated Press, "Republicans could not muster a simple majority on the issue in a committee where they outnumber Democrats by six."

And the final nail in America's cultural coffin? The American public. In a poll recently conducted by Gallup, just 48 percent of Americans believe that the federal government should "be involved in promoting moral values." Another 48 percent believe the feds should mind its own business. Thus, we have become a nation home to two different peoples, and we Christians constitute the counter-culture.
Murray's bio states that he is a former staff attorney for the Wildmon whackhouse, the American Family Association. Bonus points for also having served as national director of correspondence for Pat Buchanan's failed 2000 presidential bid.
UPDATE: Shakes Sis has cooked up a graphic for the ages for this one…