Rasmussen polls on sHillary, gay pastors, SSM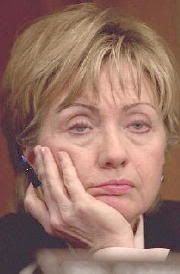 Not enough are buying what she's selling, according to Rasmussen Reports' latest polling.
Our latest Hillary Meter survey finds that only thirty-one percent (31%) of Americans would definitely vote for Senator Hillary Clinton if she were the democratic nominee for President. Meanwhile, 37% would definitely vote against her and 27% say it would depend on who she is running against. In our last Hillary Meter the number that would definitely vote against her was virtually the same. However, in this poll she did show a four point improvement in the percentage of Americans that would vote for her. (see trends)

…Today, 46% view Clinton as politically liberal, 33% see her as a moderate, and 8% say she's conservative. While a plurality of Americans view the Senator as politically liberal, she has encountered criticism from liberal activists recently for her position on the war in Iraq.
***
Rasmussen also has this poll up:
In this case, self-identified Evangelical Christians who were polled opposed gay and lesbian pastors 80% to 15%, and other Protestants opposed it by a 2-to-1 margin. Catholics are about evenly divided on the matter.
Opinion is more evenly divided in churches with declining attendance. Forty-four percent (44%) of those in declining churches say it is appropriate for gay and lesbian leadership appointments. Forty percent (40%) disagree.

Those who believe the Bible is literally true strongly oppose gay and lesbian pastors. Those who do not view the Bible as literally true strongly favor the appointment of gay and lesbian pastors.

On a related topic, 68% say "marriage" should be defined as a relationship between a man and a woman (and 83% say that's what most people think); 29% say marriage should be so defined to include any two adults. Again, Evangelicals and regular churchgoers tend to be most supportive of traditional views on this question.

Sixty-seven percent (67%) think that voters, not judges or elected officials, should decide the fate of an issue like gay marriage.