Pull out a tiny violin…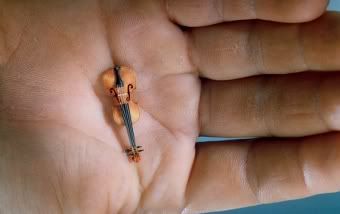 I haven't heard about any action items to storm Scott Bloch's offices. Does AgapePress know something we don't?
Pro-homosexual forces have launched an all-out attack on the head of the U.S. Office of the Special Counsel. The office was created to protect whistleblowers, the military, and the merit system.

As the newly appointed Special Counsel to the White House, one of Scott Bloch's first acts was to depart from past federal administrative policies shielding employees from discrimination based on sexual orientation. Bloch's explanation of his rationale for removing those protections for homosexuals from the federal guidelines has been that "sexual orientation isn't protected from discrimination or hate crimes by current civil rights laws," and statutes protecting people from racial and gender discrimination do not apply to sexual orientation.


When Sen. Carl Levin asked Bloch whether he would recommend that Congress clarify the fed employee anti-discrimination law to include sexual orientation, Bloch declined to take a position. Photo: (By Lois Raimondo — The Washington Post)

Family Research Council (FRC) vice president Tom McClusky says Bloch does not deserve the flak he has been getting since he took office. According to McClusky, a number of career government employees have pointed out that the policy change — to include homosexuals as a protected group — was initiated by Bill Clinton and was illegal.

"Scott Bloch reversed the policy back to the constitutionally and congressionally-ordered statutes," the FRC official says. "For his actions he has now been under fire from both Congressional and within the administration [critics] and from outside forces." However, the newly installed Special Counsel has been credited with cleaning up that office, McClusky asserts, and he says people should tell Congress and President Bush to leave Bloch alone.
Related:
* A chip off the old AmTaliban Bloch