American Idiot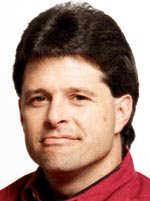 Looks like every JV football
coach in the Midwest

via No More Mr. Nice Blog I was checking out the totally rawkin' Battle Cry site where Christian teens are inveigled to create their own parallel faux-hipster universe chock full of n&#252-metal/rap-metal/Christian metal bands (warning…sound) that you can go see and pump and your fist to…but, hey! hey! hey! no devil horns there Scooter, or you'll spend the rest of the weekend testifying your ass off.
It's all the brainchild of Ron Luce one of those youth ministers who manage to make a living off of getting teenagers to give their lives over to Jesus…and giving $199 over to Ron (day of the show) to see Pillar. You know…Pillar. Pillar? Those guys up there in the link? That Pillar.
And to prove taht Ron is in touch with the kids (keepin' it real, yo), he even knows where to go for inspiration for graphics that will make his sheep bleat for joy.


Hmmmm. Where have I seen something like that before…


St. Jimmy lives…

No big deal. Stendhal is going to sue both of their asses…