"If you've got a linebacker covering him, you might as well start singing their fight song." – Washington State head coach Bill Doba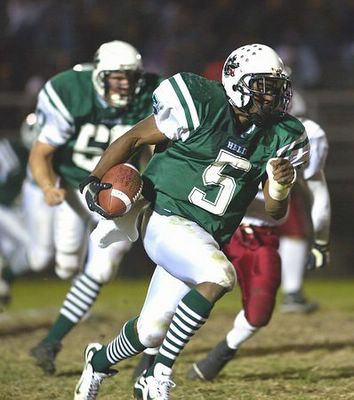 All-State as a high school sophomore

Sunday Morning Sports
Football
Last week we were at Helix Charter High School for a 'friendly' (doesn't count on the record) soccer match, Casey's first on varsity (more below). Sitting in the stands, another dad and I were talking about the fact that Reggie Bush stands a pretty damn good chance of winning the Heisman trophy this year after coming in fifth last year right behind high school teammate Alex Smith. I don't know if any other high school can claim Heisman candidates in back to back years.
If Bush wins the Heisman, he'll be the fourth San Diego high school running back to win it since 1981 (Marcus Allen '81, Rashaan Salaam '94, and Ricky Williams '98).
Another alumnus of Helix: Bill Walton, NCAA Player of the Year 1972, '73 and '74.
The other futbol

Because I've received so many emails noting that I haven't said much about soccer lately since Casey's last injury (which turned about to be a dislocated knee). I though I would post a brief update, with other updates to come throughout the season. If you're not interested… I completely understand.
As noted above, club soccer is over and high school has begun. Casey finally moved up to varsity to this year onto a team that tied for the county championship last year, and has won or tied for the championship in their division (division three) twelve of the past fifteen years. Of the six players who graduated from last years team, five are playing NCAA division one soccer this year. This years team has another six seniors, of which five have made commitments to play at division one next year. The sixth player has turned down offers from five schools (including several full scholarship offers) because she doesn't want to play in college.
The success of the program is why Casey wanted to go to this school since her goal is to play collegiately somewhere where she can major in biochemistry. Anyway, long boring low-scoring European sport made short, Casey got into her first varsity game last Wednesday night, subbing in at left outside-mid (not her normal position) at the twelve minute mark, with her team already up 2-0, and proceeded to score fifteen seconds later.
We view this as a good thing.
Final score 9-1, which is also a good thing.
Unfortunately they lost Thursday night to last years division two champion, 3-0, giving up two goals in the last five minutes, which was a shame since they played well up until that point.
Next Wednesday night they play last years division four champ which returns their entire starting lineup and includes four of Casey's teammates from her club team.
That should be interesting.
At least to me.
We now return you to your regular snark….