[Welcome folks from C&L; you can read more fun at the Blend here once you've picked up your chicken wing.]
It's hard to believe that Bush (with the help of Ken Mehlman) can do any f*cking worse at attempting to court the black vote. The Katrina debacle saw his 11% approval in the community drop down to an incredible 2%.
Where do you think his numbers are now, after this ham-handed photo op, which turned into his worst colored-folks-reliving-a-Jim-Crow nightmare. (WaPo):
It was Soul Food Thursday at Howard University last week, and many students were looking forward to their favorite meal: fried chicken, macaroni and cheese, collard greens and cornbread. At lunchtime, however, students discovered that much of the campus had been locked down and that the school's cafeteria was off limits.

Apparently, many of them did not know that President Bush and first lady Laura Bush had arrived for a "youth summit" at the Blackburn Center, where the dining hall is located. Stomachs began to growl, tempers flared, and, eventually, a student protest ensued.


REUTERS/Larry Downing

…What might have been a public relations coup for Bush — a visit to a historically black college to show concern for at-risk youths — ended up as another Katrina-like moment, with the president appearing spaced-out, waving and smiling for television cameras while students were trying to break through campus security to get to the cordoned-off cafeteria.
Can it get worse? Oh yes, my friends, it can. For Ken Mehlman, hearing about this must have caused an out-of-body experience.
On a day when the U.S. Senate passed a resolution paying tribute to civil rights icon Rosa Parks, who died last week, campus security guards were telling students that if they wanted to eat they'd have to come back when the president and first lady were gone, then go to a service door at the rear of the dining hall and ask for a chicken plate to go.
I have to agree with WaPo columnist Courtland Milloy. All the Chimp had to do was drop in, share a wing and some collard greens with the Howard students — and he'd score one for the GOP without breaking a sweat. He and his bonehead "outreach crew" couldn't even manage that without creating a PR disaster.
Worst. President. Ever.
You know what? I can think of some Self-Loathing NegroesTM that wouldn't mind standing in line at the back door of the dining hall waiting for some to-go leftovers from The Man —

Maryland Lt. Gov. Michael Steele, running for the Senate

Armstrong Williams, well-paid, ho-beast shill for the Administration

Keith Butler, homo-bigot running for the Senate in Michigan.

Ohio Secretary of State Ken Blackwell, running for governor
(added at Blender Holly's request)

Rev. Jesse Lee Peterson, head of winger org Brotherhood Organization of a New Destiny, famously saying after Katrina: "If black folks want to blame someone for this tragedy they only need to look in the mirror."

Alan Keyes, member of good standing in the AmTaliban, who kicked his "selfish hedonist" lesbian daughter out of the house

Our faux token on the Supreme Court, Clarence Thomas.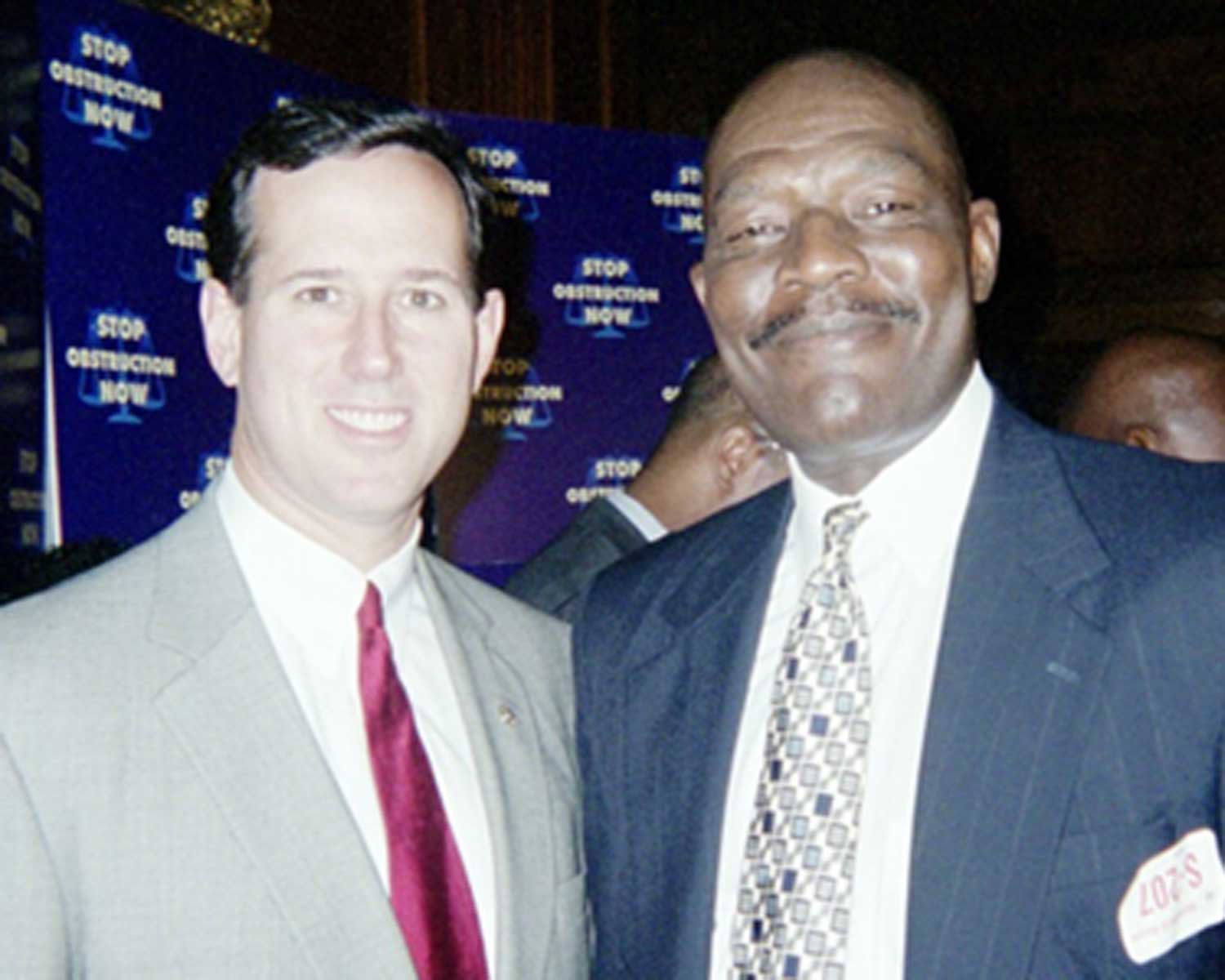 Our shuffling and jiving man from Plantation, er, Project 21, Mychal Massie, seen here with Little Ricky Santorum. Massie, on a radio show, opined that blacks should thank God for slavery.
Feel free to add your nominees for the back-door chicken line in the comments and I'll add them to the post.
Hat tip, Shakes Sis.