The Big Flush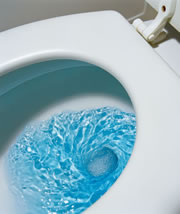 Pajamas Media settles on a
corporate logo

There is a lot to read about here, but if there is anything going down the la toilette les toilettes faster than the Mier's nomination it has to be Pajamas Media which is starting to look like the Comet Kohoutek of the Blogiverse. Dennis the Pheasant shines a light on the ugly underbelly of a ludicrous idea turning bad like potato salad in the sun.
Long story short: Roger Simon of rogerlsimon.com teams up with Charles Johnson of mybikeride-picturesofthesky-muslimhatred.com to create a media empire that will make them money on the backs of a bunch of rube bloggers who think that they're gonna get rich, rich, rich on that internets thing.
Hence the name change, come November, to PajamAmway Media.
I like it. It's got a good beat and you can fuck people over to it…